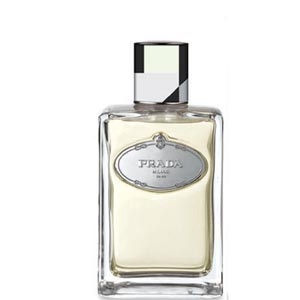 Description
At the top, purple ginger, with fresh, spicy tonalities, is reminiscent of the smell of grapefruit. It intertwines with tarragon, an aromatic herb like a cross between anise and basil. The fragrance's bracing opening then yields to a heart composed around pepper, bringing a spicy and slightly sweet side. The drydown reveals a fresh, tender and woody vetiver, with a sensation of 'green leaves crushed in your hand'. You'll also notice musky and slightly powdery tonalities, like in the original fragrance.
At a glance
A fresh, elegant vetiver
History
With Infusion de Vetiver, Prada is reinterpreting the men's scent in their 'Infusion' collection for the first time. The olfactory exercise had already been done for women in 2009, with Infusion de Fleur d'Oranger, a fragrance inspired by Infusion d'Iris. Launched with Infusion de Tubereuse, for women, Infusion de Vetiver is a sparkling, modern reinterpretation of Infusion d'Homme. You'll recognize the initial fragrance's fresh, woody and slightly powdery side, with a surprisingly transparent vetiver.
Range
Eau de Toilette 1.7, 3.4, 6.8 and 13.5; Shower Gel 33 oz
Bottle
The packaging reprises the design and style of fabrics from the House of Prada's archives, with very graphic patterns in shades of black, gray and celadon. The Infusion collection's signature bottle is topped with a cap that matches the packaging.
20 march 2013

Dommage qu'il n'ait fait qu'un passage éclair sur les étagères des parfumeries. Le temps de le découvrir, de l'apprécier et hop, il avait déjà disparu.

Report abuse

23 february 2013

Looking to find this one as the ingredients are already telling me, it is something I would like!

Report abuse

12 april 2010

Un pur moment de bonheur ces 2 nouvelles Infusion dommage que ce soit des One Shott,le temps d' un été; car c'est subtil persistant original on retrouve bien la touche Prada tout en retenue avec cette elégance folle à l'Italienne!!un pur bonheur!!!je suis fan absolu! Slts

Report abuse
Be the first to comment this fragrance! Register or login to comment.