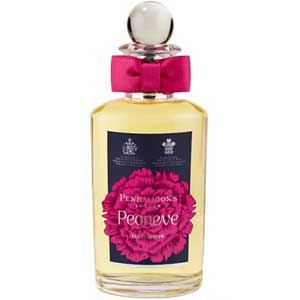 Description
Peoneve's green opening comes from violet leaves. The heart blends peony, rose and hedione. The more voluptuous trail combines vetiver and cashmere wood with musky tonalities. Perfumer: Olivier Cresp, Firmenich.
At a glance
A very British peony
History
The House of Penhaligon's presents Peoneve, a fragrance inspired by an English garden in summer, 'bursting with lush green foliage and heady with the scent of blossoming flowers.' The perfumer, Olivier Cresp, was inspired by a variety of peonies with 'abundant petals and a velvety scent'. The addition of vetiver grants the fragrance a certain density. For her, or for him, too, why not?
Range
Eau de Parfum 1.7 and 3.4 oz.
Bottle
The house's signature bottle has been graced with a black label adorned with fuchsia-toned drawing of a peony. The ribbon around the bottle's neck is fuchsia, too.
Video of the fragrance Peoneve
With the kind permission of the brand
02 october 2012

With Peoneve, Olivier Cresp shows that it is possible for Penhaligon's to release a decidedly modern soliflore whilst remaining faithful to its ye olde English roots. Using a hefty dose of a special headspace peony reconstruction, Cresp has created a refreshing, vibrant, gorgeously feminine interpretation of a flower that isn't often allowed to take centre stage.

Report abuse

http://www.persolaise.blogspot.com

Persolaise is a Jasmine Award-winning writer and amateur perfumer with a lifelong interest in the world of fine fragrance. His perfume guide, Le...