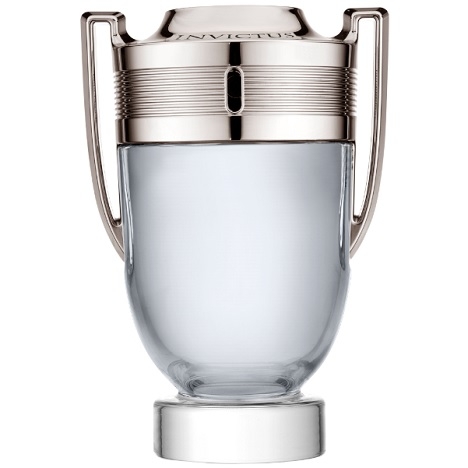 Description
The house portrays Invictus as being composed of two clashing main facets: the ecstatic freshness comes from grapefruit, a sea-spray accord and bay leaf; the addictive sensuality from a woody-ambry accord composed of gaiac wood, patchouli and ambergris. Perfumers: Veronique Nyberg, Anne Flipo, Dominique Ropion and Olivier Polge, IFF.
History
Five years after 1 Million, a bold fragrance evoking gold, success and glamour, Paco Rabanne unveils Invictus. Like 1 Million, the bottle aims to be clever and unusual: designer Cédric Ragot dreamt up a spray bottle in the shape of a trophy. And Invictus is being presented specifically as 'the scent of victory,' rather than as a sports fragrance. According to the house, the Invictus hero is a role model for men and an object of desire for women. In Latin, invictus means unconquered or invincible.
Range
Eau de Toilette 1.7 and 3.4 oz. After-Shave Lotion 3.4 oz.; After-Shave Balm 100 3.4 oz.; Shower Gel 5 oz.; Deodorant Spray 5 oz.
07 may 2014

Invictus est plus frais, moins oriental que 1 Million : il a un côté aromatique qui m'évoque Fierce d'Abercrombie & Fitch. On sent davantage les bois ambrés que dans Fierce mais l'idée est là. Sinon, je trouve la pub plutôt réussie, c'est tout à fait dans l'esprit Paco Rabanne.

Report abuse

30 december 2013

Invictus, c'est l'idée de la victoire, de la réussite. Ça suit 1 Million, qui était inspiré par la fortune, ça suit Black XS, qui était plus le parfum de 'la star du rock'. Le flacon d'Invictus est figuratif. Il sera sans doute décliné en flankers une ou deux fois, et puis ils seront obligés de trouver une autre idée aussi percutante, ce qui n'est pas simple. Mais pour l'instant, ils s'en sortent très bien, leurs parfums ont beaucoup de succès. Après, sur le plan de la création, je ne pense pas que le designer se soit amusé… parce qu'on lui a demandé de faire une coupe. Et donc, il a fait une coupe. Plus qu'apporter de la création, il est venu appliquer une esthétique sur une idée forte. Je dirais que l'innovation est purement marketing. Ça reste un produit bien fait, et je pense que ça plaira à un public jeune, un public en attente de renouvellement en matière de flacons. En effet, aujourd'hui on a plus de 1000 nouveaux parfums par an au monde (dont beaucoup de flankers certes), mais au final il y a assez peu de design visible. En revanche par rapport au design et au concept, j'ai trouvé le jus d'Invictus très calme, très gentil. Très consensuel.

Report abuse

http://www.agenceaio.com/

Marc Touati est créateur de flacons de parfums. Issu d'une famille d'ébéniste et de tapissier-décorateur, il a dès sa jeunesse une...