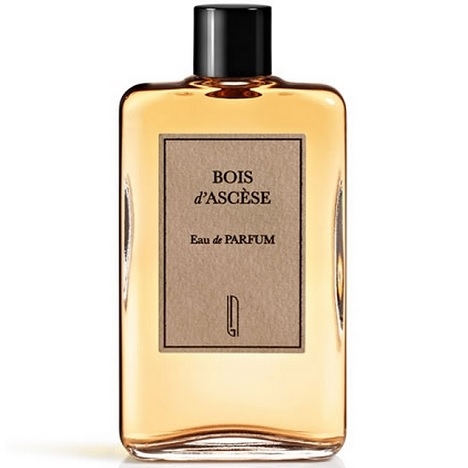 Description
This fragrance, which will appeal to anyone who enjoys smoky scents, blends notes of cade wood, Somalian frankincense, tobacco and whisky. Bois d'Ascèse also unveils a few slightly sweeter touches, like amber, cinnamon and cistus labdanum. Perfumer: Julien Rasquinet.
At a glance
Mystic smoke
History
Smoky and spiritual, Bois d'Ascèse (Ascetic Wood) is a creation from the Australian designer Naomi Goodsir. The fragrance's inspiration: an isolated chapel, wisps of divine smoke, a silent hymn... For more information: naomigoodsirparfums.com
Range
Eau de Parfum 1.7 oz.
Bottle
A rectangular bottle with rounded edges, topped with a Bakelite cap.
30 september 2013

On a ici un parfum fumé, autour de l'encens. Mais on a aussi un effet un peu plus frais, je dirais même froid, avec une note romarin, herbes aromatiques. Comme si on avait mis à brûler des herbes de Provence. Cette facette aromatique donne un effet un peu moins sombre au parfum. En ce qui concerne le packaging, il y a un petit côté Serge Lutens dans l'étiquette, mais globalement c'est joli.

Report abuse

http://www.olfactivestudio.com

Céline Verleure est la créatrice d'Olfactive Studio. Avant cela Céline a travaillé pour les parfums Kenzo, pour L'Oréal, mais elle a...