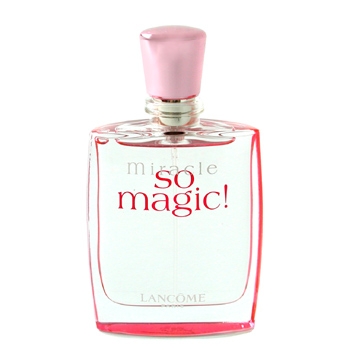 Description
A magical encounter between two flowers: wild rose and narcissus… The gentle beauty and the wild thing. An interesting clover note brings the fragrance a fresh, green crispness. The base note is sensual, thanks to the presence of vanilla notes. A lucky-charm of a perfume, created by Annick Menardo.
At a glance
A good-luck charm of a perfume. As lucky as a four-leaf clover.
History
Four years after the successful launch of Miracle, Lancôme proposes a new version with So Magic!, a feminine ode, 'so fun, so sexy', bursting with rhythm and good humor. For Lancôme, photographer Stéphane Sednaoui stages the vivacious Elisabeth Jagger, daughter of Mick and new face of the cosmetic brand. She appears all dressed in pink and wreathed in smiles and grace, walking through a radiant city. So Magic!, a spontaneous and playful new floral sensation that extends into an enchanting range of toiletries.
Range
Eau de Toilette, 3.4, 1.7 and 1 fl. oz.; Shimmering Body Lotion, 6.8 fl. oz.; Crystal-Clear Shower Gel, 6.8 fl. oz.; Magical Sheets.
Bottle
So Magic! lodges the Miracle bottle in a vivid pink-and-fuchsia case. The shiny cap is like a lively, surprising exclamation point.
Be the first to comment this fragrance! Register or login to comment.