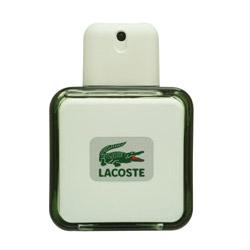 Description
A fragrance with very fresh and fizzy citrusy notes of bergamot and lemon combined with lavender and menthol. A subtle and spicy aromatic core, with Bourbon geranium and clove. The wake is discreet with woody and dry notes : tree moss, vetiver, patchouli, musk, coumarin and sandalwood.
History
The idea grew out of a close friendship between René Lacoste and Jean Patou's brother-in-law. Lacoste for Men, the first Eau de Toilette to be launched by a company other than a high fashion house of perfumer. Lacoste for Men is the Eau de Toilette of sportsmen with a winning spirit. A Lacoste eau de toilette, both elegant and discreet, a men's fragrance classic, handed down from generation to generation.
Bottle
Discreetly handsome with softly rounded corners, a bold whit-green-red coulor theme, and the name Lacoste and the crocodile in simple graphics : a square object, a merely comfortable shape, easy to hold and full of practical harmony.
25 february 2013

En tête, on sent vraiment le galbanum. Le galbanum, c'est la sève d'une plante qui pousse principalement en Iran. Le galbanum a une odeur verte : c'est très végétal, mais avec un côté sève, pas feuille ou herbe. C'est également résineux. C'est une note que l'on a un peu mis de côté et oublié, mais qui revient actuellement en parfumerie. Le galbanum se marie très bien avec le citron. Ici, le parfum a également des notes de citron, mais aussi de menthe et de mousse : c'est une fougère aromatique.

Report abuse

http://www.rochas.com/fr/parfums

Parfumeur créateur de la maison Rochas, Jean-Michel Duriez est amoureux des parfums et des belles matières premières. Formé à l'Isipca, puis...