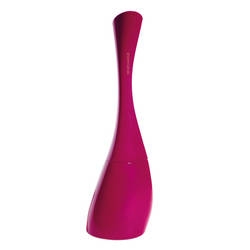 Description
A delicate perfume unveiling Balinese frangipani blossom, Japanese cherry blossom, Burman Thanaka wood, Chinese white tea and more... wrapped in the sweet sensuality of vanilla, frankincense and rice. Fragrance designers: Daphne Bugey and Olivier Cresp, Firmenich.
At a glance
A voyage of love through fragrant, gentle Asia
History
Kenzo Amour is a gentle, sensual and cheerful perfume. An olfactory voyage evoking Asia, from India to Burma, via Japan and Thailand. The scent's waves of rice, cherry blossom, Thanaka wood and frankincense tell a tale of 'lovely places vibrating with color and fragrance.' With charm and poetry, the bottles and packaging extend this colorful voyage of love.
Range
Eau de Parfum 1, 1.7 and 3.4 fl. oz.; Bath and Body Line.
Bottle
The bottle (white, orange or fuchsia, depending on the size) is a stylized evocation of an unusual bird: abstract, imaginary and colorful. The white package has a flying bird extending all the way around it.
Advertising of the fragrance Kenzo Amour
With the kind permission of the brand
05 may 2013

S'il est un parfum qui pourrait représenter à lui seul la diversité des beautés parfumées de l'Asie, il s'agirait sans aucun doute de Kenzo Amour. Après un subtil départ associant thé blanc de Chine et une note 'vapeur de riz' si rarement utilisée en parfumerie et pourtant si représentative du continent asiatique, le cœur de la composition accueille le parfum solaire et crémeux des fleurs de frangipanier. Elles s'associent aux douces et délicates fleurs de cerisier du Japon. La fragrance laisse alors place au précieux bois de Thanaka de Birmanie qui s'enrobe peu à peu de sensuelles notes d'encens et d'un voile poudré de vanille et muscs blancs. Comme une véritable déclaration aux odeurs de l'Asie, Kenzo Amour invite au voyage en rassemblant les plus belles matières emblématiques qui font l'identité olfactive de chaque pays et finalement de tout un continent.

Report abuse

27 november 2012

A nota de arroz aromático, juntamente com o incenso e baunilha, criam uma sensação exótica e reconfortante. Adulto, sutil, bonito, chique.

Report abuse

http://perfumenapele.com

Quando criança, brincava com frascos vazios de Phebo imaginando ser perfumista. Apaixonou-se de verdade por perfumes quando ganhou de uma vizinha...