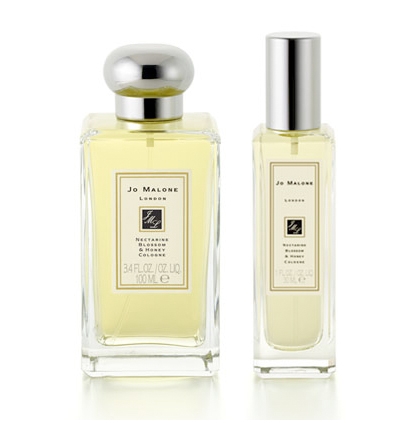 Nectarine Blossom and Honey
Description
The fragrance opens on dewy greens, sweet citrus and juicy notes of peach and nectarine. Blackcurrant and plum, along with hints of vetiver, add depth, and the honey complements the natural sweetness of the fruits without overpowering.
At a glance
The enticing aroma of summer fruits drizzled with pure Acacia blossom honey.
History
Jo Malone began to develop a Nectarine Blossom fragrance some years ago, but the formula was set aside and left unfinished. A taste of peach sorbet in a New York restaurant, and later the scent of ripe nectarines at a London market, acted as "sensory reminders", and she set to work once again. With the addition of honey gathered from Acacia blossoms to balance the fresh notes, Nectarine Blossom and Honey was completed. It can be worn on its own for a refreshing fragrance for spring or summer, layered with the matching body products for added intensity, or worn with other Jo Malone scents to create a new fragrance signature. Try Nutmeg & Ginger for added sensuality and warmth, Verbenas de Provence to highlight the sparkling citrus notes, or Tuberose for romantic wear.
Range
Cologne, 30 and 100 ml; Body Cream, 175 ml; Shower Gel, 250 ml.
Bottle
Jo Malone's signature packaging features spare but chic bottles with elegant black and cream labels. The cream and black motif is continued on the outer packaging.
26 february 2015

This scent is one of my favorites of Jo Malone's. I like a lot of her perfumes (now that I own a few). This creation was well worth waiting for. The honey and vetiver are such a beautiful pairing. The peach & plum are clear notes and not overly dense. Like all of hers that I've tried, the scents are clear, fresh and spare. They don't need to be layered, but I am going to try that.

Report abuse

21 august 2014

Je vais nuancer quelque peu mon commentaire du 31 octobre 2013. Je classe toujours Nectarine Blossom and Honey dans les parfums d'exception, mais hélas, il a fini par virer insecticide sur moi. Dommage.

Report abuse

31 october 2013

Nectarine Blossom and Honey se suffit à lui même tant il est équilibré !!!

Report abuse
Be the first to comment this fragrance! Register or login to comment.