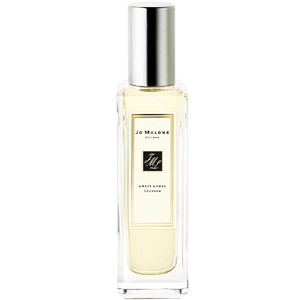 Description
The Tea Fragrance Blends collection comprises 5 perfumes: Assam & Grapefruit, an invigorating citrus-aromatic scent, blends tart notes of grapefruit and Assam tea with hints of cardamom, almond and patchouli. Earl Grey & Cucumber, a "quirky" rustic-aromatic fragrance, reveals a bergamot-scented tea with slightly lavender-inflected tonalities, as well as green notes and an evanescent touch of cucumber. The fragrance also boasts notes of beeswax, vanilla and musks. Fresh Mint Leaf, an herbaceous-aromatic, is a typically minty scent with green effects (basil and maté, according to the brand). The trail of this tea scent blends cedar and musks. Sweet Milk, a woodsy-oriental, has a milky keynote with a coconut-like effect. Jo Malone lists star anise, almond and vanilla among the ingredients. The perfume is also woodsy and gourmand. Sweet Lemon, a fruity-floral, is a lemon tea with a fruity note of pineapple, a 'twist of sugar' and a woodsy base. The following olfactory pyramid is for Sweet Lemon.
At a glance
Jo Malone revisits tea-time
History
For her Tea Fragrance Blends collection, Jo Malone decided to reinterpret the quintessential British tradition: tea-time. Between Earl Grey, milk, lemon, mint and grapefruit, you're sure to find your cup of tea! True to the house's philosophy, the collection encourages you to combine two scents. For more info: www.jomalone.com
Range
Cologne 1 oz.
Bottle
A sleekly elegant bottle.
10 march 2015

Nordstrom had a quite large display. However, the tea fragrances were not available. I was so dissapointed that not one of the tea fragrances were available, because I would have bought all five of the tea fragrances.

Report abuse

15 november 2014

I love every note put into this parfum. I want to buy this!

Report abuse

07 july 2011

Cette semaine l'artiste Mr NOMIS nous a donné sa vision de ACCORD OUD. A voir sur http://www.inspire-blog.com !!!

Report abuse
Be the first to comment this fragrance! Register or login to comment.