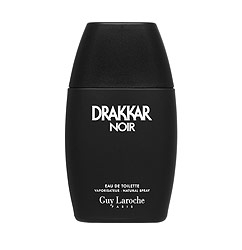 Description
Firstly herb-scented with basil, rosemary, verbena and fresh mint, the lavender base is then toned up with a pineapple note.Spicy tones of juniper, coriander, cinnamon, angelica and absinthe add freshness.The woody end note is heightened with oakmoss, balsam fir, patchouli, vetiver, cedar and musk.
History
"The gentle forcefulness of a man's perfume".Drakkar Noir was the world's most widely used men's perfume for almost a decade.A rarity in the world of perfumery: almost half the men in America have worn it sometime in their life. It still remains today one of the top ten perfumes in Europe.Its success is a result of the typically masculine scent, a classic fougere accord updated with a contemporary fruity note.Drakkar Noir covers the full range of Latin-lover codes, from "macho" to ladies' man, reasserting the virility of young men it is meant for.Over the years, the advertising of the perfume has included Golf G.T.I.'s to rock star fans.
Bottle
The bottle was designed when black first appeared as a distinctive color for men's products.
Be the first to comment this fragrance! Register or login to comment.