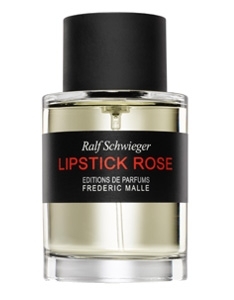 Description
This cheery, smiling scent evokes a tube of pink lipstick, with notes of rose and of violet candy. Glamorous and chic, it is wrapped in musk, vanilla and vetiver.
At a glance
A cheerfully glamorous scent composed by perfumer Ralph Schwieger.
History
Lipstick Rose was created by perfumer Ralph Schwieger for Les Editions de Parfums Frederic Malle, who has gathered together the crème de la crème of perfumers for surprising projects, far from the beaten paths of traditional perfumery. The brand offers its rare and sumptuous gems to true perfumistas. Originally available in Paris only (at two boutiques that really are worth the visit), the brand is now available in most major cities the world over. To find out more: www.editionsdeparfums.com
Range
Eau with a 12.5% concentration: 1.7- and 3.4-oz. sprays. Spray refills, 3 x 0.34. Scented lotion.
Bottle
A cylinder of understated luxury covered with a black label and enhanced with a cap of the same hue
09 january 2013

Lipstick Rose is easy to write about because I've been having a love affair with this fragrance for years. Perfumer Ralf Schwieger has taken all of my favorite notes and created a masterpiece that is so impossibly feminine and intensely sensual, that it should come with a warning label alerting men of its potent effect ! Lipstick Rose is a modern fragrance with a vintage feel, and Schwieger beautifully portrays the candied cosmetic scent of a favorite lipstick - the ultimate expression of the female icon. The treasured notes are rose, violet, musk, vanilla, vetiver, and amber... To be worn only by a very confident woman who can handle the consequences.

Report abuse

http://www.sniffapalooza.com

Karen Dubin is the founder and director of Sniffapalooza, an international, event-based organization for fragrance lovers. Karen Dubin created...