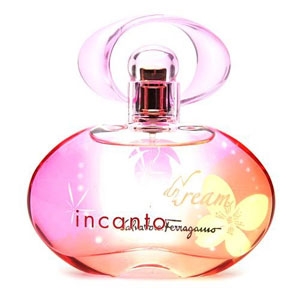 Description
Une fragrance fruitée, pétillante et pleine de fantaisie. Un départ de fruits exotiques et de pomme Pink Lady. Un cœur de fleurs tendre sur un fond délicat et confortable de bois et de muscs. Une essence composée par Laurent Bruyère (IFF).
At a glance
Un moment de bonheur pétillant et coloré.
History
Après Incanto, lancé en 2003, la maison Ferragamo crée Incanto Dream, un parfum d'enchantement et de joie de vivre. Un fruité pétillant dans un packaging coloré aux motifs féminins romantiques et tendres. Une essence de séduction qui ravira les femmes optimistes à l'âme joueuse.
Range
Eau de Toilette, 30, 50 et 100 ml; Gel Douche, 150 ml ; Lotion Corporelle, 150 ml.
Bottle
Incanto s'habille de fantaisie, dans un décor coloré de papillons, d'étoiles et de fleurs.
Be the first to comment this fragrance! Register or login to comment.