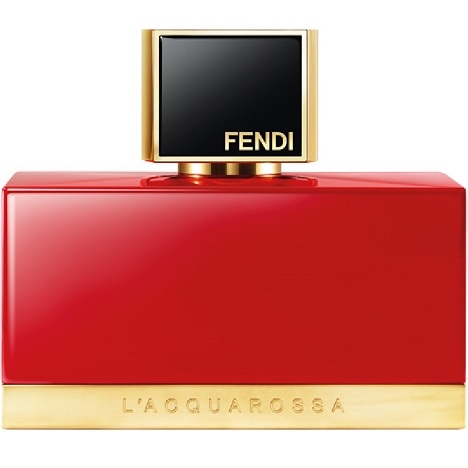 Description
L'Acquarossa opens with fruity notes of bergamot, mandarin orange and plum. The heart intertwines lantana flower (a tart, fruity note), rose, orange blossom and magnolia. The trail is composed of red cedar, white musk and patchouli. Perfumers: Delphine Lebeau and Benoist Lapouza, Fragrance Resources, in collaboration with François Demachy.
History
The house of Fendi presents L'Acquarossa (Red Water, or Red Eau, in Italian), a new fragrance for women. The house describes the perfume as being 'the passion-red elixir for today's grand heroines.' L'Acquarossa is a tribute to charismatic women who have stage presence – and all the world's their stage. The rectangular bottle is lacquered in fire-engine red, with black and gold highlights.
Range
Eau de Parfum 1, 1.7 and 2.5 oz. Body Lotion. Shower Gel. Deodorant Spray.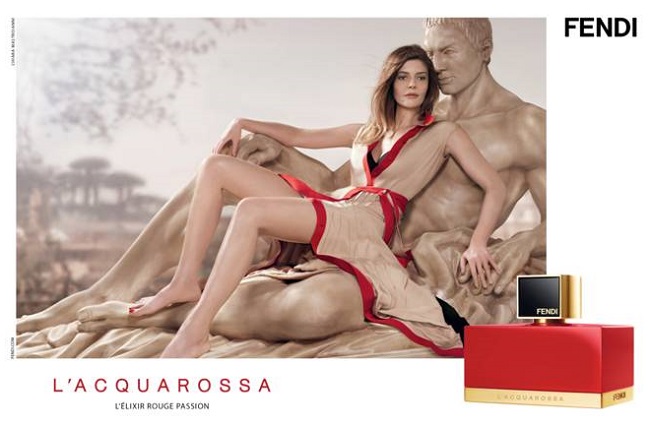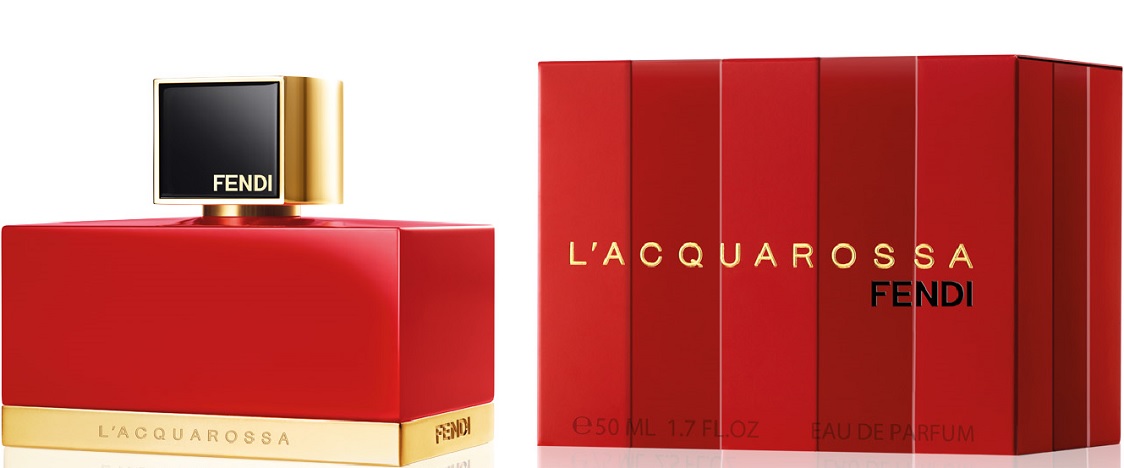 Les publicités et images présentées appartiennent exclusivement à leurs auteurs. Toute utilisation commerciale est strictement interdite sans accord préalable de l'auteur.Toute image présente sur le site peut être enlevée sur simple demande de la part de l'auteur, en écrivant à contact@osmoz.com
Avec l'aimable autorisation de la marque
With the kind permission of the brand
07 may 2014

Le lantana camara est un petit arbuste, parfois de forme rampante, avec de petites fleurs colorées. Il pousse à l'état spontané dans de nombreux pays. Pour ma part, j'en ai depuis longtemps dans mon jardin en Corse. C'est une espèce que j'avais beaucoup distillée à Madagascar. Quand on frotte les feuilles, se dégage un parfum vert et fruité, qui rappelle celui de l'absolu de bourgeon de cassis. J'ai travaillé le lantana camara pour une bougie du même nom. J'ai exacerbé le côté croquant, acidulé, vert, lumineux. Dans le parfum de Fendi, le lantana ne constitue pas la facette la plus présente. La fragrance est certes fruitée mais également fleurie.

Report abuse

www.parfumdempire.fr

D'origine corse, né au Maroc, Marc-Antoine Corticchiato est entouré de plantes à parfums dès son plus son âge. Il s'intéresse tout...

11 march 2014

Though I'm more accustomed to correlating the color red with spicy orientals (mainly thanks to the visual presentation of some classics in the genre and the impression of "hotness" as related to spices), I was pleasantly surprised by this "red water" which smells predominantly of a crisp, fresh and aromatic rose. Red can also be the color of love and what better symbol than the rose? The citrusy accents and a hint of patchouli in the base make it young, but the absence of too sweet or vanilla notes creates a sophisticated fragrance. Excellent choice of face to front the campaign, Chiara Mastroianni!

Report abuse

http://perfumeshrine.blogspot.com/

Elena Vosnaki is a historian and writer, the founder and editor of Perfume Shrine, one of the most respected independent online publications on...