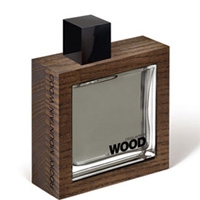 He WOOD Rocky Mountain Wood
Description
The Rocky notes blend mineral amber, incense and musk. The Mountain notes mix violet, Canadian lily and white pepper. The wood notes fuse vetiver and cedar wood.
At a glance
For Nature lovers…
History
Dsquared² dedicate this first masculine edition of He WOOD to Nature lovers, to men who feel the powerful draw of Nature and who recognize their profound place in it. The woody vetiver fragrance is built upon 3 facets : Rocky notes, Mountain notes and Wood notes. More info : www.dsquared2.com
Range
Eau de Toilette 50 and 100 ml / 1.7 and 3.4 oz.
Bottle
A squared glass bottle framed with natural wood.
02 november 2013

On the left wrist I put Amouage Honour, to the right Dsquared ² He Wood Rocky Mountain Wood, my signature scent. Honour opens somehow screaming, just eats nostrils. About twenty seconds after, pepper , lots of refined pepper, one of my favorite notes, and most masculine perfume ingredients. The opening of this extraordinary moment in common with my Rocky. That 's why I do a comparative test. Not long after, Honour becomes much drier, darker scent, with a green patina acquired a mystical trait, whereas the world's most beautiful violet Rocky distract the romantic direction, which more befits my nature. A few hours after application, I can conclude that the excellent stability of Honour, and the aura is such that it fills the entire room. It will make you might be after a couple of hours nailed to the skin, however, it is only an appearance, on all the time its presence in the skin radiates intense, and no chance with him to be unnoticed. Exceptional quality. However, despite the positive comments of environments that I get in the last two days because of Honour, on women definitely act as an aphrodisiac, but I think that Memoir and Jubilation are much more complex and layered fragrances. After this initial opening, Honour maintains linearity, which is no doubt a very warm and inviting for the sense of smell. I'm happy to wear it, I think of it, you can definitely smell the most striking wherever they appear, because this is a scent that distinguishes men from the crowd, and the quality and unbeatable aura. However, Rocky mountain to me is much more complex and valuable scent, regardless of the reduced price. But women are the ones who know best if several of them in just two days, very loudly, in a positive way comment on Honour, then it means that this perfume creation is worth every cent.

Report abuse

20 july 2013

Cette composition m'intrigue au même titre que son nom.

Report abuse

11 june 2013

DSquared2 gets a lot of mention and attention in the US. I don't know how much they sell. This sounds new & innovative. But what are "mountain scents and rocky scents?" I'm sure they go well with the wood notes. I want to smell this because of the intriguing accords.

Report abuse
Be the first to comment this fragrance! Register or login to comment.