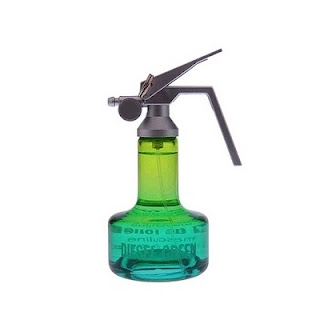 Description
Men will love splashing on this energizing cologne with its fresh and aromatic woodsy scents. Among the ingredients are such unusual notes as Canadian fir, ginger and cyclamen.
At a glance
You already know them for their hip jeans... now Diesel is getting into fragrance,too, with Green. A sparkling green, laid-back juice.
History
Launched in 1978, after the second gas crisis, the Diesel brand's lines of imaginative clothes are aimed at a young, anti-conformist market. Rightfully proud of their worldwide success, they're branching out into fragrance with Green, a fresh, modern essence in an unusual bottle.
Range
Eau de Toilette, 1 and 2.5 fl. oz.; After Shave, 2.5 fl. oz.; Deodorant Stick, 2.5 fl. oz.; Deodorant Spray, 5 fl. oz.; Shower Gel, 6.8 fl. oz.
Bottle
Just like the women's version, the Green Masculine bottle takes the shape of a spray bottle for plants. The products in the toiletries range come in clever packages, too. And the whole line is dressed in invigorating hues shading from green to blue and back again.
Be the first to comment this fragrance! Register or login to comment.