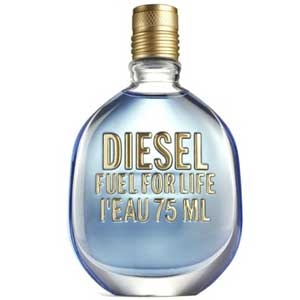 Description
Fuel For Life L'Eau's fresh, citrusy opening is composed of anise, petit-grain and lemon verbena. The heart flaunts lavender intertwined with salty waves of calone for an aquatic note. The drydown reveal a pairing of heliotrope and vetiver.
At a glance
A blue wave of freshness
History
After Fuel for Life, in 2012 Diesel presents Fuel For Life L'Eau, a fresh variation with a fougere tonality that aquatic, too. This sparklingly sexy 'fountain of youth' evokes a splash of life. The secret? 'A bracing accord that goes to your head, a wave of freshness in the heart, and a sensual drydown that brings body'. 'With your mind awake and your senses alert, you'll get the most out of the moment,' Diesel advises.
Range
Eau de Toilette 2.5 oz.
Bottle
Fuel For Life's hip-flask bottle now reveals a juice in a blue-jean hue. It's topped with a golden cap to match the engraved capital letters that spell the fragrance's name on the front of the bottle.
27 march 2013

La calone est une molécule qui, en grande quantité dans un parfum, apporte un effet aquatique, marin. Dosée en petites touches dans un parfum, elle apporte davantage une impression de transparence, de fraîcheur, plus qu'un effet véritablement aqueux. Personnellement, je l'utilise parfois, plutôt en petites touches, mais pas très souvent à vrai dire.

Report abuse

www.parfumdempire.fr

D'origine corse, né au Maroc, Marc-Antoine Corticchiato est entouré de plantes à parfums dès son plus son âge. Il s'intéresse tout...