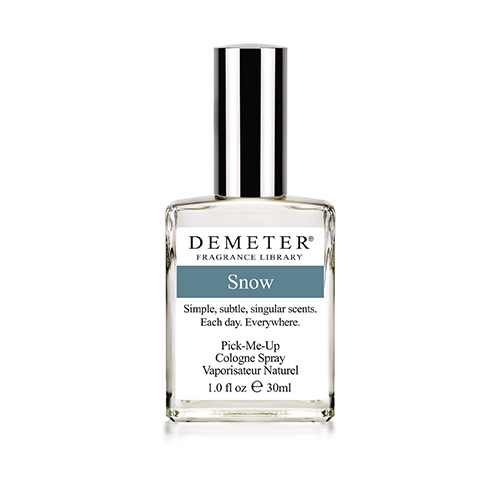 Description
Demeter fragrances are linear, single note fragrances, so they do not have a top, middle and bottom note. Demeter's single notes, also known as accords, have special characteristics – they express their nature immediately and do not change over time.
History
Remember what newly fallen snow smells like? Or a fresh snowball? This is it. At Demeter, after years of effort, we were able to capture the essence of snow in a scent: chilling, cool, clean and fresh, with a touch of dust (necessary to form flakes) and earth (upon which to rest). There is literally nothing like it outside of the Demeter Fragrance Library. The Fragrance Foundation recognized this unique fragrance reproduction as the Best Fragrance in America in 2000. Demeter's mission remains to expand the daily use of fragrance, because every time you smell something you love, you smile. And the world needs more smiles.
Range
Cologne spray 1 oz, 4 oz, Cologne purse spray and mini Cologne splash 0.5 oz, Cologne Spray vial sampler 0.1 oz, perfume oil roll on 0.29 oz, Pick-Me-Up body lotion and shower gel 8.4 oz, massage & body oil 2 oz, Home atmosphere diffuser oil and Home atmosphere spray 4 oz
Bottle
Demeter's bottles are clean and simple. Focus is on the fragrance inside the bottle and creating the highest quality, prestige scents, inspired by everyday objects and experiences, in wearable formats.
15 march 2015

Le fait que ce parfum n'est pas de pyramide olfactive m'intrigue beaucoup. Par cela, sans même avoir pu sentir cette fragrance, je relirais ce parfum aux hommes, dans toute leur simplicité et leur unicité. Pour les hommes naturels voulant ajouter une note d'élégance à leur aura, peut-être?

Report abuse
Be the first to comment this fragrance! Register or login to comment.