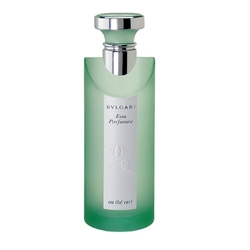 Description
The Eau Parfumée is fresh, delicate, sweet and lemony. The citrus facet immediately shrouds the skin, then jasmine blossom and rose provide a soothing sensation. Gradually, those scents give way to green tea, providing a very fresh sensation.
History
After adapting oriental philosophy to its own culture, the Occident borrowed the green tea ceremony. At first, this ritual was dedicated to meditation and introspection. Now it has become a special moment of relaxation and well-being. Bulgari's Eau Parfumée is born of this culture and a profound sense of ceremony. The fragrance is dedicated to all those in search of a profound sensation of well-being.
Range
Soap Bath and Shower Gel Body Milk Deodorant Bath Tea sachets
Bottle
The flacon was designed to symbolize the content and foretells simplicity and freshness. The satiny and slightly green hues give the bottle a unique elegance. Its unusual size makes it precious just like all of Bulgari's objects.
02 october 2012

Le thé est une matière première indéniablement associée à l'Asie. La Chine et l'Inde étant les deux plus gros producteurs de thé au monde, mais on retrouve aussi d'importantes plantations au Sri Lanka, en Malaisie et en Indonésie. Pas étonnant que le continent soit l'un des premiers consommateurs de ce breuvage, connu et apprécié depuis des millénaires. L'Eau Parfumée au Thé Vert de Bulgari créée par Jean-Claude Ellena fut le premier parfum à interpréter la senteur de thé vert. Un accord de bergamote, d'hédione et d'épices froides qui ne sent pas réellement le thé, mais libère un arôme floral végétal à la sensation rafraîchissante que l'on ressent en dégustant une tasse de thé vert. Cet accord fut, depuis, repris pour tous les produits parfumés à la dénomination thé vert et ce même en Asie !

Report abuse