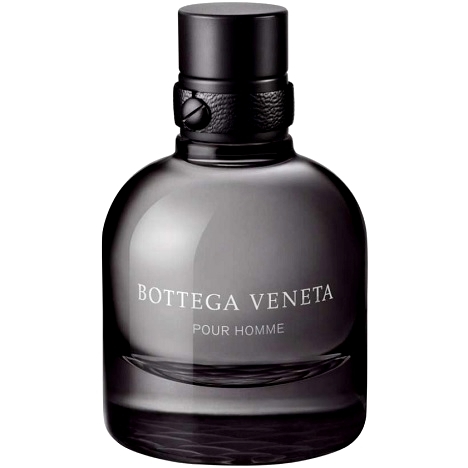 Bottega Veneta Pour Homme
Description
Woody, leathery, and graced with a distinct freshness, Bottega Veneta Pour Homme opens with bergamot, pine and juniper wood. The heart, which is on the aromatic side too, pairs hot Jamaican pepper with balsam fir and sclary sage. The dry down goes more leathery and woody, with notes of patchouli, leather and labdanum. Perfumers: Daniela Andrier and Antoine Maisondieu, Givaudan.
History
Bottega Veneta presents their first fragrance for men: Bottega Veneta Pour Homme. A refined and mysterious scent, Bottega Veneta Pour Homme leads us into the heart of the Dolomites mountain range (north of Venetia, in Italy). The fragrance is intended for men who are both discreet and self-confident. The sleek cylindrical bottle is adorned with a black-leather strap.
Range
Eau de Toilette 1.7 and 3 oz., After-shave balm 6.8 oz., Shower Gel 6.8 oz., Deodorant Stick 2.4 oz.
30 december 2013

Je trouve que ce parfum est charismatique et sensuel. Il a un fort caractère par la présence de ses épices poivrées, baies de genièvre, et un peu de cannelle et piment pour plus de chaleur, qui accompagnent bien les notes aromatiques et résineuses. Le fond mêlé de « sapin » et labdanum est très enveloppant et adoucit les puissantes notes de cuir, ce qui lui confère à la fois sensualité et élégance. Les parfums cuirés sont en général très affirmés et puissants, et je trouve qu'il est intéressant de les remettre sur le devant de la scène en les modernisant, de les travailler pour leur donner de la personnalité tout en étant subtil, grâce notamment à l'apport de nouvelles molécules qui peuvent complémenter certains ingrédients ou spécialités historiques.

Report abuse

http://www.cecilezarokian.com

Cécile Zarokian est parfumeur-créateur indépendant. Elle élabore des fragrances dans son laboratoire de création parisien situé près du Canal...