OSMOZ magazine
Fresh, modern and well-designed: N°5 comes out with an Eau Première!
02 june 2014
In 2014, N°5 Eau Première is being relaunched in a redesigned bottle. That's a great excuse to take a new look at the fragrance: so we tested it for you.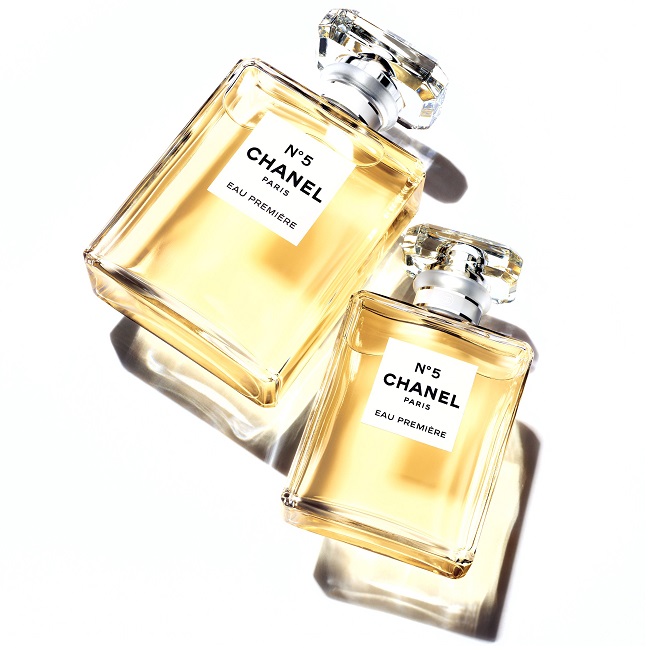 Left-hand scent strip: Chanel N°5 in the eau de parfum version. THE classic scent. It's a little bit intimidating to wear, or at least to test at a perfume store.
Yet we all know someone who wears it, or has worn it. Plus, we still remember the ads. With Marilyn, Brad Pitt, Nicole Kidman… In fact, what we know the least is probably the scent itself!
Right-hand scent strip: the Eau Première version. Created in 2008 by Jacques Polge, it grabs you from the first sniff. The flowers, the citrus fruit: if you smell the sniff strip first, you'll say it really smells like N°5. But if you compare it to the eau de parfum, the changes will leap out at you: it really is distinctly different.
So what does it smell like? Ylang-ylang has been tamed, yielding pride of place to a much more ethereal floral bouquet. The aldehydes, with their "luxury soap" facet, have also been dramatically tamped down. With this new balance, the musky and vanilla facets come through loud and clear. It's quite sweet.
But is it fresher? Undoubtedly. More modern? Absolutely… even if, ironically, when all is said and done, it actually makes you want to test the eau de parfum on your skin (after all, a perfume that's almost 100 and still going strong is pretty intriguing, don't you think?).
So… the Eau Première: is indeed fresher… but the pleasant surprise is that it's quite long-lasting. A whole week later, you can still smell the right-hand strip.
Perfect to give, or to get for yourself. A real treat to look out for in the iconic bottle dreamt up by Coco Chanel.
What about you – do you like to compare different versions of the same fragrance? Let us know what you think…