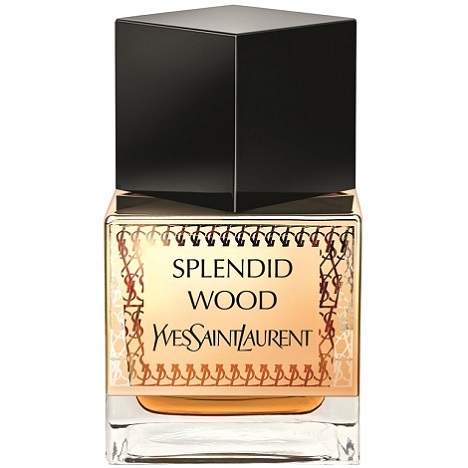 Description
A spicy-woody-oriental fragrance, Splendid Wood blends cypriol with cedar, frankincense and oud wood. Cardamom grants a touch of spice to the scent. You'll also find jasmine and oriental notes. Perfumers: Amandine Marie and Marie Salamagne, Firmenich.
History
Splendid Wood is the fourth 'olfactory voyage' in YSL's Oriental Collection. This one draws its inspiration from the treasures and mysteries of the Orient. The sleek, cubic bottle is embellished with a golden plaque with an oriental influence.
Range
Eau de Parfum 2.7 oz.
12 april 2014

C'est un parfum boisé que je perçois mixte, riche, texturé, avec des facettes orientales, encens, cuir et oud. On sent bien le cypriol. Le cypriol est une variété de papyrus, qui pousse en Inde. C'est une matière plutôt chère, qui a beaucoup de facettes : boisées, fumées, ambrées... Les parfumeurs ont aussi recours au cypriol pour la création de notes oud.

Report abuse

11 april 2014

I will go out on a limb and say that at least one of YSL's parfums from the Splendid Wood line will win a FIFI award in 3 days. I am not sure what cypriol is, but YSL handling frankinsence and jasmine has mixed, a men's note with a woman's note. This should make it more "unisex." Got to try this.

Report abuse
12 april 2014

C'est un parfum boisé que je perçois mixte, riche, texturé, avec des facettes orientales, encens, cuir et oud. On sent bien le cypriol. Le cypriol est une variété de papyrus, qui pousse en Inde. C'est une matière plutôt chère, qui a beaucoup de facettes : boisées, fumées, ambrées... Les parfumeurs ont aussi recours au cypriol pour la création de notes oud.

Report abuse