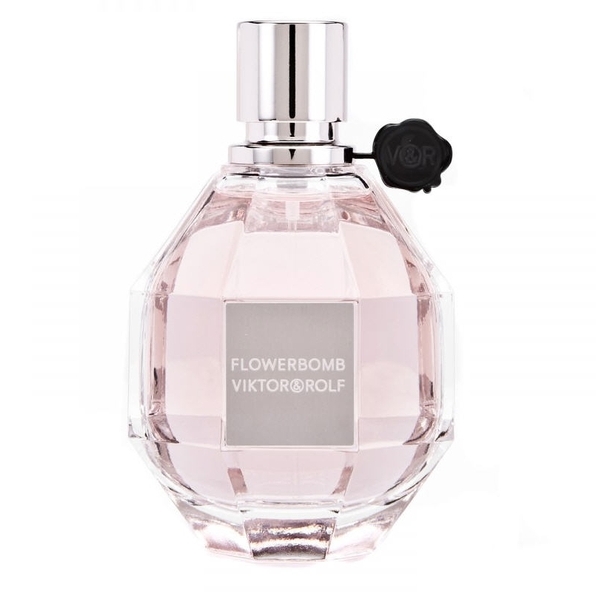 Description
The two designers wanted an addictively explosive floral scent, like a mixed bouquet with an haute-couture trail. Sambac Jasmine, Cattleya orchid, Centifolia rose and more, over a luminous base of patchouli. An essence imagined by a trio of noses: Olivier Polge, Carlos Benaim and Domitille Bertier
At a glance
Modern, glamorous and explosive. From the ultra-creative designing duo Viktor & Rolf.
History
Glamorous, sophisticated, theatrical and explosive, designers Viktor & Rolf's fashions are always surprising. Ten years after the launch of their label, this duo of gifted couturiers is finally releasing their highly awaited first perfume, christened Flowerbomb. An haute-couture floral explosion, in a chiseled "hand grenade" bottle. Because for Viktor & Rolf, fashion and fragrance are "antidotes to reality, against which there is just one weapon: dreams."
Range
Eau de Parfum, 1, 1.7 and 3.4 fl. oz.
Bottle
A one-of-a-kind bottle: a 'diamond-grenade', facetted like precious stone, yet evoking a weapon. The colors are tender and glamorous, and both the bottle and case are graced with the designers' signature "wax seal".
09 january 2013

Viktor & Rolf Flowerbomb makes a powerful statement from start to finish - from the name, to the provocative hand grenade shaped bottle, to the intensity of its scent notes. Classified as a gourmand oriental, Flowerbomb opens with a blast of gardenia, apricot, and orchid, and then mellows into notes of jasmine, red fruits, freesia and rose. The lingering drydown of sandalwood, candy, vanilla and patchouli makes this a very sensual and empowering scent. If Flowerbomb is your favorite, also sample Thierry Mugler Angel, Calvin Klein Euphoria, and Marc Jacobs Lola.

Report abuse

http://www.sniffapalooza.com

Karen Adams is the executive operations manager of Sniffapalooza. This international, event-based organization for fragrance enthusiasts was created...

21 november 2012

gosto mais do frasco do que do perfume. O design de uma granada que ao mesmo tempo é uma jóia, me chamou a atenção no lançamento - tenho o perfume até hoje por causa da embalagem..

Report abuse

02 october 2012

Flowerbomb fait partie de mes parfums préférés. Il possède une odeur sucrée, mais pas écœurante comme certains parfums gourmands pourraient avoir. Pour ma part, je préfère l'eau de toilette à l'eau de parfum, qui est plus légère mais avec une excellente tenue. Outre sa fragrance, j'ai été séduite par son flacon original en forme de grenade. Je verrais bien Flowerbomb pour des jeunes femmes dynamiques… un peu séductrices aussi. Quant à Spicebomb, la version masculine, je me suis ruée dans une parfumerie dès sa sortie pour la sentir. Et je dois dire que je n'ai pas été déçue !

Report abuse