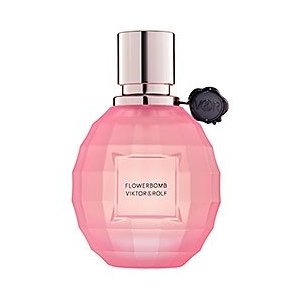 Flowerbomb 'La Vie en Rose'
Description
Where the two designers were going for an addictively gourmand floral with Flowerbomb, this scent has more summery tonalities. Flowerbomb 'La Vie en Rose' is a colorful, fruity floral that opens with an explosion of citrus intertwined with sparkling pink pepper. The heart blends green and floral notes before evolving towards a gentle drydown.
At a glance
A sparkling ode to summer, garbed in fluorescent pink
History
To celebrate Flowerbomb's 5th anniversary, the designing duo Viktor & Rolf present Flowerbomb 'La Vie en Rose', a fresher, more sparkling, less gourmand version than the original. The pair of fashion designers have garbed the bottle of this flanker for Flowerbomb in a fluorescent pink hue, like a cheerful nod to utopia, the joys of summer, and the flanker's name, since 'Rose' in French is not just the flower, but also the color pink. The name is also a tribute to Edith Piaf's famous song, La Vie en Rose, of course,
Range
Tart Summer Eau 1.7 oz.
Bottle
You'll recognize the original scent's bottle, like a cross between a facetted precious stone and a hand grenade, in reference to the bomb in the name. But the pale pink color has made way for a brighter fluorescent pink – flashier and more upbeat, it screams "summer!"
Be the first to comment this fragrance! Register or login to comment.