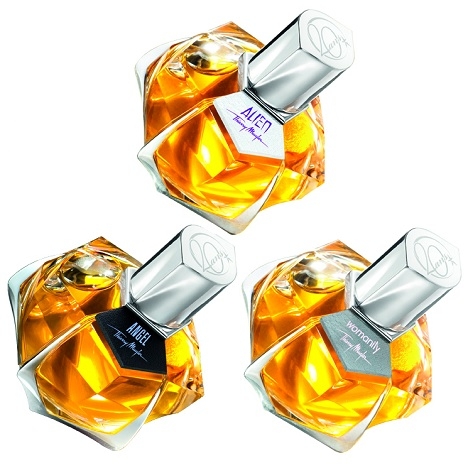 Les Parfums de Cuir / The Fragrances of Leather
Description
The Fragrances of Leather collection for women includes three fragrances: Alien The Fragrances of Leather, a woodsy-oriental floral, exhales the original scent's tonalities of sambac jasmine, cashmeran and white amber. The whole has been enhanced with a leather note, with suede and dried fruit facets. Womanity The Fragrances of Leather, a fruity-woodsy oriental, reprises the key notes of Womanity: fig, fig leaf and fig wood, caviar, sun-drenched notes and more. In addition, there are now leather notes with an ambry effect that, 'echoes the labdanum notes already present in the composition.' Angel The Fragrances of Leather (see pyramid), a gourmand woodsy-oriental, reprises Angel's emblematic notes: patchouli, vanilla, gourmand notes (chocolate, praline and more), fruit… This time, the leather brings 'delightfully apricoty facets' and 'inflections of iris.'
At a glance
Angel leather
History
Boldly oriental, Alien, Womanity and Angel have been graced with a leather note. In 2012, Thierry Mugler is celebrating 20 years of fragrance with the Fragrances of Leather collection, which is inspired by 'the ancestral craftsmanship of fragrance- and glove-makers.' The perfumes Alien, Womanity and Angel were poured into vats and allowed to mature in contact with plant leather. It took four weeks to 'get the best out of the leather, and to reveal the most carnal scents.' For men, A*MEN was submitted to the same experience.
Range
Eau de Parfum 1 oz.
Bottle
The multi-facetted bottles have been embellished with a silver star at the base. They have each been topped with a silver cap and adorned with a leather medallion around the neck. Each bottle comes nestled inside a leather pouch.
29 october 2012

J'aime cette idée de faire des collections, des millésimes, de se rapprocher d'autres métiers, c'est très créatif. J'aimais bien la démarche des parfums infusés dans des fûts de chêne (les liqueurs de parfums), on était très proche de l'univers du vin. En revanche, ici, j'aime moins le packaging. Je ne vois pas pour quelle raison on a mis des griffes sur le flacon. Sinon, on a un verre qui ressemble à une belle pierre. Concernant l'édition cuir d'Angel, le parfum est assez réussi. Je trouve ça moins sucré que l'original, moins caramel, moins poudré également. Il y a aussi un effet un peu abricoté. Cependant, je ne ressens pas vraiment le côté cuir. Au global, c'est une nouvelle version intéressante d'Angel.

Report abuse

http://www.olfactivestudio.com

Céline Verleure est la créatrice d'Olfactive Studio. Avant cela Céline a travaillé pour les parfums Kenzo, pour L'Oréal, mais elle a...