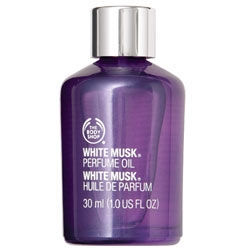 Description
White musk, a strong presence right from the start, is garbed in floral notes of lily, rose, jasmine and ylang-ylang, and a fruity touch of peach. The fragrance evolves towards a warmer trail of woods (patchouli, vetiver), moss and amber.
At a glance
Sensual, velvety… A classic scent
History
White Musk has been a favorite with women for more than 25 years. Its white musk trail is distinguished by sweet and velvety floral-woodsy notes. For a more sensual and mysterious scent, The Body Shop now proposes an eau de parfum version as well as a wide range of cosmetics and bath and body products: fragrant oil, sensual shimmer fragrance, shimmer powder and more… At The Body Shop boutiques.
Range
Eau de Toilette 1 and 2 fl. oz.; Eau de Parfum 1 fl. oz.; Fragrant oil; Sensual Shimmer Fragrance; Sensual Shimmer Dust; Shimmer Mist; Smooth Satin Body Lotion; Body Crème; Sumptuous Silk Shower Gel; Creamy Cleansing Body Bar; Silken Lustre Bubble Bath; Body polish.
Bottle
A bottle with clean, pure curves shading from white to amethyst.
07 march 2013

White Musk est articulé autour d'une colonne vertébrale musquée constituée de 50 % de muscs blancs. Autant de muscs crée un effet boule, cocon, poudré. Il faut donc un booster. Dans White Musk, ce sont les aldéhydes. Cela apporte un côté rétro, classique. Plus récemment, j'ai imaginé une version moderne de ce parfum : White Musk Libertine.

Report abuse