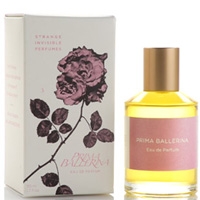 Description
Dynamic, resplendent, exalting, Prima Ballerina is a satiny bouquet of Egyptian and Turkish roses, laced with ribbons of Greek sage and lime. Poised on an enchanting stage of botanical musk, this lithe composition executes a perfect tour jeté with rare, exhilarating grace of a true classic.
At a glance
A velvety bouquet of roses
History
Alexandra Balahoutis, perfumer and founder of Strange Invisible Perfumes, native from Los Angeles, with family ties to Hollywood, created Prima Ballerina to celebrate the beauty of Rose: the regal comportment of the Prima Ballerina and the majestic strength and redolence of her namesake rose.Prima Ballerina is now a top seller in her Signature Collection. Prima Ballerina is part of the Strange Invisible Perfumes Signature Collection, made of more than 20 ethereal complex perfumes, all crafted from the finest botanical ingredients. Available at select Barneys stores, the Strange Invisible Perfumes boutique and perfumery in Los Angeles, or online at siperfumes.com. For more info: www.siperfumes.com
Range
Eau de Parfum 1.7 oz ; Perfume 0.25 oz.
Bottle
Refined and handcrafted, the perfume bottle resembles an antique flask with its glass round polished top.
23 september 2013

Her box designs remind me of a few Yves Rocher boxes.

Report abuse

23 september 2013

I love the mauve roses on the box. She takes packaging seriously. Any girl of age 5 could have dreams about becoming a ballerina. Not dreams of becoming the best ballerina as that requires pain & work most would not want. It is dressing up in the tutus and tulles that drive the dream. Ballerinas are showered with roses upon a good performance. It is part of the fantasy. I like it when roses are crafted superbly in a perfume. Since Alexandra B. used lime & sage in her creation, it is one I want to try.

Report abuse

19 april 2013

Les flacons sont très sobres, ce qui est à souligner pour une maison américaine.

Report abuse
Be the first to comment this fragrance! Register or login to comment.