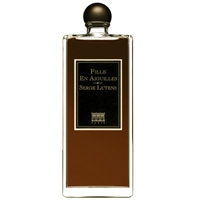 Description
Balsam fir pine needles are woven with vetiver, frankincense, fruit and spice notes in a fairly luminous, woody-oriental composition.
At a glance
Sweet resins…
History
Step by step, Serge Lutens has brought a touch of fantasy and humor to his fragrant creations. The name of this perfume, for instance, is an inspired pun: 'Fille en Aiguilles' means both "Girl in High Heels" and "Girl in Needles" (as in pine needles, one of the ingredients), and it sounds a lot like "Needle & Thread" too. Despite the name, this woody-resinous oriental shaded with frankincense and fruity accents is not just for women: Fille en Aiguilles can easily be worn by men, too, an idea that tickles Serge Lutens' fancy.
Range
Eau de Parfum concentrate 1.7 oz.
Bottle
The house's refined, rectangular signature bottle.
11 march 2013

Serge Lutens, c'est un peu un modèle pour moi ; même si j'ai une parfumerie assez différente. J'utilise moins l'ambre, les notes de fruits noirs, confits, etc. Chez Serge Lutens, Fille en Aiguilles reste mon parfum préféré. Je n'ai pas encore réussi encore à trouver ce qui fait que j'adore. Est-ce le pin, l'effet gourmand, le côté fruit confit ? Certains parfums déclenchent une addiction totale… avant même qu'on arrive à les analyser et les décrypter.

Report abuse

http://www.olfactivestudio.com

Céline Verleure est la créatrice d'Olfactive Studio. Avant cela Céline a travaillé pour les parfums Kenzo, pour L'Oréal, mais elle a...