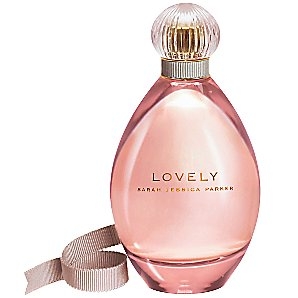 Description
After a sparkling opening, with rosewood and 'Apple Martini' notes, Lovely unveils a woodsy-floral heart composed around orchid, narcissus and patchouli. At the dry-down, the fragrance reveals a silky white amber, garbed in woods and white musks.
At a glance
A chic and charming first perfume from TV star Sarah Jessica Parker.
History
As obsessed with fashion and fragrance as the character she plays in Sex and the City, Sarah Jessica Parker is launching Lovely, a first perfume with elegant and charming vintage accents. An essence described as a 'chic women's scent, with a touch of fantasy', and 'a silky, timeless white amber fragrance', for 'women from 17 to 107'…
Range
Eau de Parfum, A, 1.7 and 3.4 fl. oz.
Bottle
The bottle has a vintage feel, allying simplicity, romanticism and chic with its curvy lines, frosted glass and the delicate ribbon wrapped around the cap. The initials "SJP" are emblazoned on both the gilded spray cap and the packaging.
Advertising of the fragrance LOVELY
With the kind permission of the brand
02 october 2012

Possibly Lovely by SJP is the only celebrity perfume which most people with an intense interest in perfume have embraced as genuinely worthwhile. Probably because SJP herself is an affirmed perfumista, as attested in her developing the scent alongside Coty (retold by Chandler Burr in his book). The closest simile olfactory-wise is with Narciso For Her (Rodriguez) but the common root for both is the Egyptian Musk bought off street vendors that both scent 'creators' liked. I find Lovely smooth, with an indeterminate floral component that is creamy and sweet, but not too much. It fits more with modern luxury scents (such as Lanvin's Rumeur and above-mentioned Narciso for Her) than classical ones in my opinion.

Report abuse

http://perfumeshrine.blogspot.com/

Elena Vosnaki is a historian and writer, the founder and editor of Perfume Shrine, one of the most respected independent online publications on...