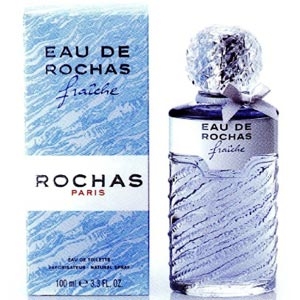 Description
As a variation on the theme of the original fragrance, Eau de Rochas fraîche isn't instinctively fresher than its elder. Eau de Rochas's markedly citrusy opening has been slightly toned down here; on the other hand, the mossy and slightly chypry signature is definitely more discreet. Otherwise, the fragrances are closely related, and Eau de Rochas fraîche has a distinctly retro feel. The result is undoubtedly a bit more floral and soapy, with an iris tonality, and a hay facet, thanks to liatrix and oakmoss (evernia prunastri). Perfumer: Jean-Michel Duriez.
At a glance
Freshness of old…
History
1970 – 2010: Eau de Rochas celebrates its 40th anniversary. For the occasion, perfumer Jean-Michel Duriez decided to revisit the lightly chypry citrus trail of the classic fragrance Eau de Rochas has become over the years. As a tribute to the Mediterranean region, both the bottle and the juice are garbed in shades of blue. A small ribbon adorns the neck of the bottle, and the perfumer added his own personal touch: the mot 'fraîche' (fresh) written by hand.
Range
Eau de Toilette 1.7 and 3.4 oz.
Bottle
The classically retro Eau de Rochas bottle has been updated with a pale-blue hue. The bottle's neck has been graced with a pale-gray ribbon, and the word 'fraîche' has been inscribed by hand.
Be the first to comment this fragrance! Register or login to comment.