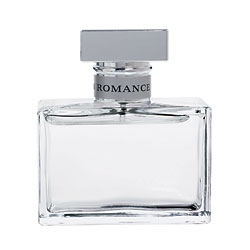 Description
The distinctive 'citrus rose' note is pervasive.Ginger, French marigold and freesia give it a playful and impetuous charm.The fragrance draws its purity, grace and softness from the transparent lotus flower, the heady lily and the romantic white violet.Patchouli, oakmoss and white musk soften the bouquet.
History
A tribute to romantic and eternal love, Romance is a perfume of intimate moments and the simple pleasures of life. It blends the qualities of a classic perfume with the floral subtlety of a modern fragrance.The rose created by the perfumer - who is also a botanist - is at the heart of this composition. The flower has a characteristic citrus scent. Ralph Lauren received the plant as a present so only two people in the world have it in their garden.The passionate and playful ad introduces novelty with the "nose kiss", which the French refer to as the Eskimo kiss, while the ad for the men's perfume communicates the concept of the "neck kiss".Romance for Woman became a best-selling perfume on the American market shortly after it was introduced.
Bottle
The case is reminiscent of the lacework on a bride's veil and the perfume is tinted with romanticism.
02 october 2012

Romance, created by perfumer Harry Fremont in 1998, is a stellar example of a perfectly balanced fragrance that has transcended the decades to reach the status of modern classic. Utilizing the spirited blend of exotic fruits, sophisticated heady florals, and playful pink juice, Romance has the rare tribute of being universally wearable by women of any age, and it continues to grace vanity tables across the globe. Notes include : sungoddess rose, ginger, chamomile, lychee, marigold, yellow freesia, neroli, lotus flower, white violet, violet absolute, night blooming daylily, patchouli, oakmoss, exotic woods and sheer musk.

Report abuse

http://www.sniffapalooza.com

Karen Dubin is the founder and director of Sniffapalooza, an international, event-based organization for fragrance lovers. Karen Dubin created...