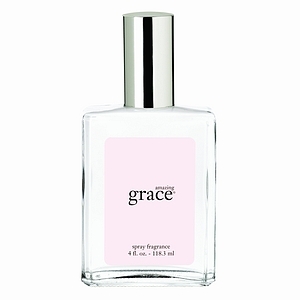 Description
Amazing Grace is a feminine scent that blends soft floral blossoms with a hint of citrus and white musk. A light and delicate fragrance.
At a glance
Feminine and delicate like grace
History
Amazing Grace is Philosophy's best selling fragrance. The brand created by Christina Carlino proposes a large selection of scents, skincare cosmetics, bath and body products. Amazing Grace is delicate and perfect for those who dislike heavy scents. With Amazing Grace, 'people will say "my you smell good" rather than "your fragrance smells good" '.
Range
Eau de Toilette 2 fl. oz. ; Perfumed Shampoo and Shower Gel 16 fl. oz. ; Body Firming Lotion 16 fl. oz.; Luxurious Bubble Bath 24 fl. oz. ; Shimmer Lotion 4 fl. oz. ; Body Souffle 7.5 fl. oz. ; Salt Scrub 23 oz. ; Body Gloss 8 fl. oz..
Bottle
A bottle of purity and softness. Rectangular glass, topped with a long metallic cap.
30 july 2013

I actually shelled out money to buy the miniature and give this "runaway American scent" a second chance. This would make a great scent for a hairspray. This would be a beautiful hairspray. It's good for 2 minutes and then it fades horribly into nothingness. Then in 2 hours you might get a small whiff of something which disappears before you can ascertain what you just smelled for 2 seconds.

Report abuse

05 june 2013

Very subtle and innocent. For women who don't want to intrude on the world in any was possible. Good for passive-aggressive types.

Report abuse

14 may 2009

This is a very relaxed and peaceful fragrance. I spray thin sheets of cotton cloth with this fragrance and add the sheets to my clean laundry in the drier. It makes my clothing smell so fresh and scrumptious.

Report abuse
Be the first to comment this fragrance! Register or login to comment.