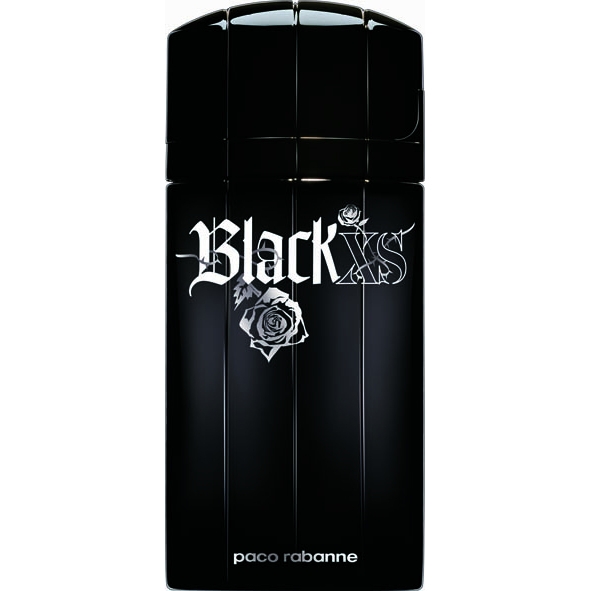 Description
An unusual composition: excessive, generous, unique. The zesty, fruity opening is bursting with freshness. In the heart, a sweet touch of praline blends with the spicy charm of black cardamom. The drydown is lively and sensual, overloaded with woods and black amber. Created by perfumer Olivier Cresp (Firmenich).
At a glance
The excessive new fragrance for tough men with soft hearts
History
Twelve years after the launch of XS, the house of Paco Rabanne unveils Black XS. A fragrant, seductive new scent blending energy, charm and virility. It will appeal to new men, :bad boys with hearts of gold', like this new essence's icon, model Will Chalker, who can be fiery or sexy or rock n' roll. Black XS's design is also a blend – of passion and instinct: all dressed in black, the bottle is tattooed with a thorny rose wrapped around the fragrance's name. Black XS, passion that is more than just skin deep. For men.
Range
Eau de toilette, 1.7 and 3.4 fl. oz.; After Shave, 3.4 fl. oz.; Shower Gel, 5 fl. oz.; Deodorant Spray, 5 fl. oz.; Deodorant Stick, 2.5 fl. oz.
Bottle
A black bottle bearing a tattoo of a rose with ardent thorns wrapped around the fragrance's name in gothic letters.
14 september 2012

Le parfumeur Olivier Cresp serait-il gourmand ? Sans doute, tant il sait faire 'croquer' les parfums. Oui, Black XS est croquant : la fraise et le caramel recouvrant un fin sillage de bois, pour se languir ensuite dans le pain d'épices, le café et des notes de génoise beurrée. Sur peau, il se révèle soit boisé, pointu et plutôt viril, soit gourmand, doux et rassurant. Un paradoxe, une maîtrise de la facette qui ne serait rien sans un citron et une fraise, notes en apparence simples, mais ici parfaitement maîtrisées.

Report abuse

http://www.olfactorum.blogspot.com

Passionné de parfums depuis très longtemps, formé depuis 2003 aux matières premières chez Cinquième Sens, Thierry effectue ses gammes pendant...