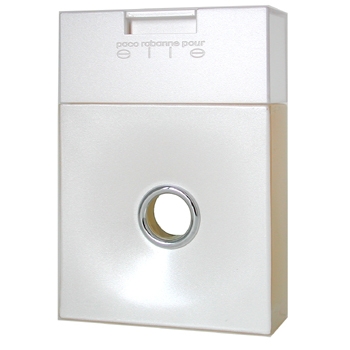 Description
The essence of a woman is her sensuality. The bewitching powers of flower and amber notes blend gracefully to compose it. The exotic and carnal notes of karo-karounde, a South African flower, and massoia bark make up the trail.
At a glance
The Paco Rabanne woman is free, feminine andsensual. He has created a veritable jewel for her skin, a perfume that sinks into bare skin like a white-hot flame, awakening the senses. A new creation that underlines the couturier's attachmentto modern d
History
For Paco Rabanne, metal – omnipresent in his creations – symbolizes the modern era. His scent calls forth the sensuality inherent in metal. Like his designs, it fuses with a woman's skin and flatters her body.
Range
Eau de parfum 1, 1.7 and 2.6 fl. oz. Sensual Body Cream6.8 fl. oz, Spray deodorant 3.4 fl. oz.
Bottle
In the very center of the pure white bottle, the designer's signature, a metal ring – symbol of the eternal and of eternity – allows a glimpse of the flesh-toned perfume.
Be the first to comment this fragrance! Register or login to comment.