Description
A fresh, fruity, mouthwatering floral. An opening that sparkles with Calabrian lemon and Caipirinha lime. The heart reveals the charm of "love apple" (candy apple, in French), paired with floral notes of peony and moonflower. Then a sweet vanilla praline note announces the trail: apple-tree wood and musks. Perfume designers: Olivier Cresp and Jacques Cavallier, Firmenich.
At a glance
A modern, seductive fairy tale
History
Nina is a 'young woman living under a lucky star'. This graceful, romantic 'fairy for our times' is looking for an unusual fragrance, 'a magical elixir' with sweet, fruity and mouthwatering waves of scent. For her, Nina Ricci invented Nina, a fairy-tale fragrance in a love-apple shaped bottle.More informations on : www.nina-parfum.com
Range
Eau de Toilette 2.65, 1.7 and 1 fl. oz.
Bottle
An apple-shaped bottle, as raspberry-pink and bright red as a candy apple. The fruit is decorated with shiny metal leaves and stem. The bottle reinterprets the shapes of an earlier Nina Ricci perfume: 'Fille d'Eve' (Daughter of Eve).
Advertising of the fragrance Nina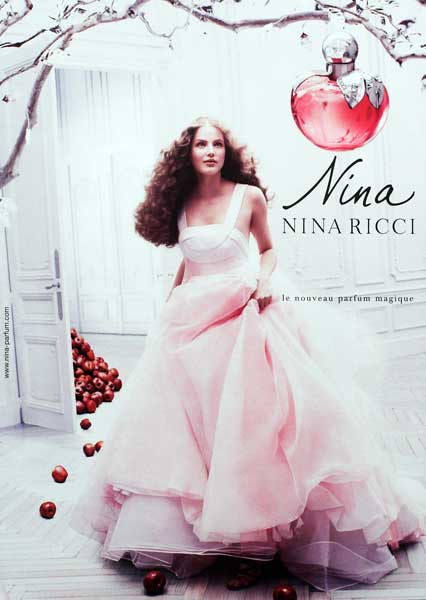 in partnership with Mes-parfums.com
With the kind permission of the brand
07 march 2013

Nina makes me think of a candy : I feel a slightly acidic candy touch, with fruity and citrusy (lemon, orange, raspberry…) notes. It's a fruity perfume, but it's not an oriental gourmand scent, with toffee or chocolate notes, like Angel for example. For me, if this fragrance became a best-seller, it's because it reminds childhood memories, with this candy note that is well done and pleasing. I envision this fragrance for a young or a very young woman. Why not a teenager, for sure less than 25 years old. The apple-shaped bottle is pretty young too, I think.

Report abuse

http://www.olfactivestudio.com

Céline Verleure est la créatrice d'Olfactive Studio. Avant cela Céline a travaillé pour les parfums Kenzo, pour L'Oréal, mais elle a...

08 november 2012

Gosto especialmente do equilíbrio entre as notas de limão de caipirinha e o caramelo, que não deixa o perfume super enjoativo e permite que seja um gourmand "usável" até no verão.

Report abuse

http://perfumenapele.com

Quando criança, brincava com frascos vazios de Phebo imaginando ser perfumista. Apaixonou-se de verdade por perfumes quando ganhou de uma vizinha...