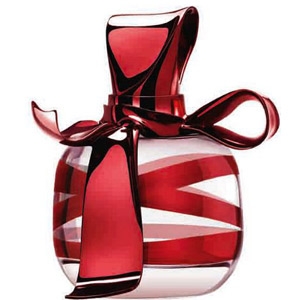 Ricci Ricci Dancing Ribbon
Description
Ricci Ricci Dancing Ribbon is a logical flanker for Ricci Ricci, with an opening that unveils fruity, spicy notes of raspberry, rhubarb and ginger. The heart reveals a bouquet of belle de nuit (literally, "night beauty", or four o'clock flower) and tuberose paired with the fruity-spicy facets of centifolia rose. The sensually woodsy trail intertwines patchouli and sandalwood. Perfumers: Aurelien Guichard and Jacques Huclier, Givaudan
At a glance
The rooftops of Paris are dancing with the fruity waves of a red ribbon
History
After the success of Ricci Ricci, Nina Ricci is launching – for the time it takes to ask "May I have this dance?" –Ricci Ricci Dancing Ribbon. The fragrance revisits Ricci Ricci's trail with a fruity-spicy twist of raspberry and ginger. The ribbon has taken on a flamboyant red hue, and the heroine has become more self-confident… both bolder and more mischievous too! She has taken over the rooftops of Paris, the better to bewitch the French capital and to get everyone dancing to its fruity-floral, gourmand waves of scent.
Range
Eau de Parfum 1.7 oz. Limited edition.
Bottle
Ricci Ricci's transparent bottle is adorned with a scarlet ribbon printed directly on the glass.
12 november 2012

This perfume has a coquetish allure due the rubahrb and spicy accords, though I can smell the caramel Nina-the-apple has. Patchouli and tuberose are quite intense, but it leaves a joyful trail afterall... Lovely, young, not overly sexy, but sexy anyway, and somehow, gourmandi-ish.

Report abuse

http://perfumenapele.com

Quando criança, brincava com frascos vazios de Phebo imaginando ser perfumista. Apaixonou-se de verdade por perfumes quando ganhou de uma vizinha...