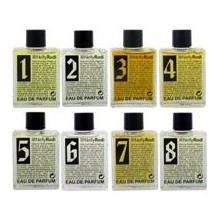 Description
The Scent Factory collection explores eight facets of the 'Oriental' olfactory family. Fragrance 1: INCENSE: Rosemary, Cinnamon, Nutmeg, Frankincense, Styrax, Rose, Vanilla, Sandalwood. Fragrance 2: RHUM: Rum, Saffron, Nutmeg, Styrax, Patchouli, Papyrus, Gaiac Wood, Sandalwood, Vanilla. Fragrance 3: CARDAMOME: Cardamom, Cedar. Fragrance 4: CACAO: Patchouli, Vanilla, Frankincense, Myrrh, Styrax, Castoreum. Fragrance 5: GIMGEMBRE: Grapefruit, Saffron, Pink Pepper, Nutmeg, Ginger, Frankincense, Patchouli, Vanilla, Amber. Fragrance 7: AMBRE: Amber, Vanilla, Musk. Fragrance 8 ROSE: Bergamot, Coriander, Cardamom, Rose, Ylang-Ylang, Mimosa, Cinnamon, Caraway, Musk, Vanilla. The following pyramid is for Fragrance 6: BOIS.
At a glance
An inspired olfactory series dreamt up by the trend agency Nelly Rodi
History
Nelly Rodi accompanies fashion and cosmetics houses in divining tomorrow's successful trends. For the first time ever, she is addressing the fashion-conscious public directly with Scent Factory. Conceived as an olfactory compilation, this series of eight essences has been built on a refined Oriental base, and cost was practically no object. Different perfume designers were solicited to create the olfactory identity of each creation. Discover them in department stores and selected perfume shops.
Range
Eau de Parfum, 8 X .85 fl. oz.
Bottle
A rectangular box encases eight bottles. Each fragrance is presented in a minimalist bottle printed with the essence's number.
Be the first to comment this fragrance! Register or login to comment.
Be the first to comment this fragrance! Register or login to comment.