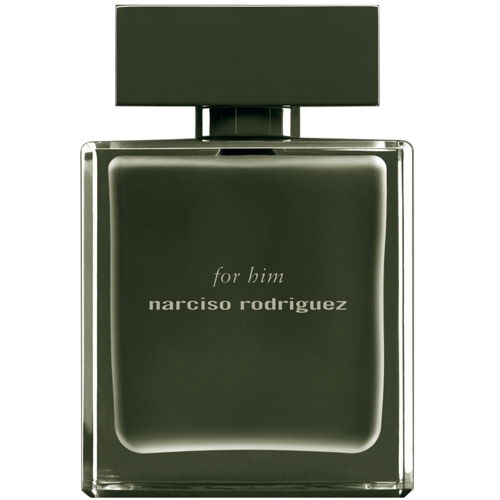 Description
for him is a modern ferny scent that develops along 3 lines – floral, ambry and woody – around a musky heart. Designed by: Francis Kurkdjian, Takasago.
At a glance
The first scent for men from couturier Narciso Rodriguez
History
Three years after for her, a perfume that attracted a lot of attention, American designer Narciso Rodriguez launches for him, his first scent's masculine alter ego. There is a noticeable similarity between the two bottles: dark hue, heavy glass, perfect minimalism. Evandro Soldati is the face of this elegantly modern and enigmatic signature scent. It also comes in a perfume oil version called 'musk for him', with a more intense concentration of musk.
Range
Eau de Toilette 1.7 and 3.4 fl. oz.; Perfume Oil 'musk for him' 1.7 fl. oz.; After Shave Lotion 3.4 fl. oz.; After Shave Emulsion 3.4 fl. oz .; All-Over Shower Gel 6.8 fl. oz.; Deodorant Stick 2.6 oz.
Bottle
A sturdy, streamlined bottle, shorn of everything superfluous, in heavy glass with a dark gray heart.
Advertising of the fragrance For Him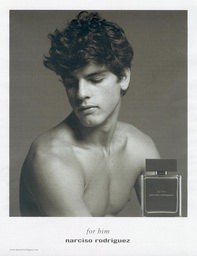 in partnership with http://www.imagesdeparfums.fr/
With the kind permission of the brand
07 march 2013

For Him, c'est curieusement pour moi Bandit de Piguet réinventé. Après avoir senti les deux parfums l'un après l'autre, une filiation m'a sauté au nez. For Him enrobe un accord boisé vert, très tabac, dans un nuage de muscs blancs modernes et très chauds, habillés d'un bouquet floral, jasminé et solaire. Original, sans concurrent, il s'avère typé, unique.

Report abuse

http://www.olfactorum.blogspot.com

Passionné de parfums depuis très longtemps, formé depuis 2003 aux matières premières chez Cinquième Sens, Thierry effectue ses gammes pendant...