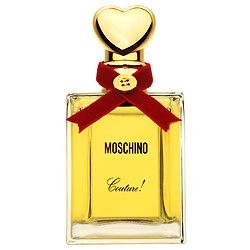 Description
Couture ! is a generous bouquet of flowers combining the captivating notes of yellow peony and poppy, the teasing perfume of pomegranate blossom and the incomparable opulence of jasmine. The refreshing opening owes its tang to touches of spice and citrus fruit. And the balsamic and woody closing invites those who wear it to discover a bold sensuality. A stunning success
At a glance
A perfume with an intense and vibrant character, and a pinch of mischief too! A seductive scent with an unpredictable elegance that will charm romantic – and fashionable – women.
History
A mysterious nude with diaphanous skin, and eyes hidden behind long lashes. Only her fire-engine red nails and lips are pulsing with light. In her hands she holds a bottle, a not-so-discreet object of desire and seduction. The Couture ! bottle's setting creates an instantaneous vision of pared-down, off-beat luxury. Rossella Jardini, art director for the Moschino label, defines her essence as lively, colorful and simply irresistible. For her, Couture ! is the very image of the Moschino woman: self-confident, with a mischievous charm tinged with a touch of irony.
Range
Eau de Parfum 8.5 1.7, 2.5 fl. oz.; Scented milk, 6.8 fl. oz.; Shower & Bath Gel, 6.8 fl. oz.
Bottle
Filled with an amber-hued juice, the Couture ! bottle is possessed of elegant design and refined, pure lines. The Moschino touch: the golden-toned, heart-shaped stopper is sealed with a red-velvet ribbon and a golden button that reinforce the scent's mischievous, self-indulgent image.
Be the first to comment this fragrance! Register or login to comment.