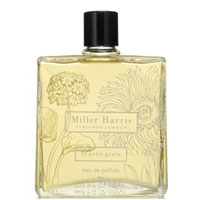 le petit grain (sweet orange)
Description
An opening of orange, eau de brouts absolute (an extraction from the leaves), bergamot and angelica. The heart pairs aromatic herbs and lavender. The close blends petit-grain absolute, neroli, woods and moss.
At a glance
A refined and delicate fragrance inspired by the orange tree
History
Lyn Harris, the house perfumer for Miller Harris, has come up with a light scent incorporating every element of the orange tree. A tree known for its generosity, thanks to the profusion of ingredients it brings to perfumery. Petit grain, which is obtained through distillation of the tree's twigs and leaves, possesses a sweet note that manages to be green, floral and fruity all at once. Here, Harris has paired it with the orange tree's fruit and flowers for a fragrance for both men and women. For more info: www.millerharris.com
Range
Eau de Parfum 3.4 oz.
Bottle
A sleekly chic square bottle adorned with plant motifs: Miller Harris fragrances' signature bottle.
25 july 2013

Le petit grain est obtenu à partir des arbres à agrumes, notamment l'oranger. C'est plus frais et plus vert que l'odeur de la fleur d'oranger. Si on prend une mandarine et qu'on frotte la feuille, on retrouve cette odeur de petit grain. Le petit grain me rappelle les eaux de Cologne à l'ancienne.

Report abuse