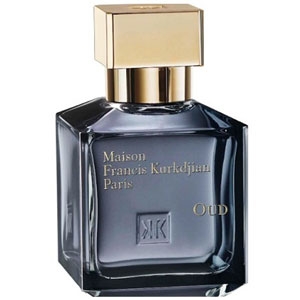 Description
The fragrance opens with a spicy, almost frankincense-like effect, created by elemi and saffron. The heart is composed of oud, a wood that grants a slightly animalic effect. The drydown offers a hint of the drier tonalities of patchouli plus woody-leathery waves of Atlas cedar, as well as a sweeter facet with just a hint of vanilla.
At a glance
Francis Kurkdjan's dream of Arabia
History
'Oud,' by Maison Francis Kurkdjian, is an invitation on a voyage to a thousand-and-one-night palace in the silence of the desert. Oud, the fragrance's key ingredient, 'has something rough and primitive about it, an untamed animal quality that needs to be 'sensualized' … like wrapping a big cat's soul in silk', the perfumer explains. Francis Kurkdjan describes Oud as a bewitching, mysterious and narcotic scent that can suit men and women equally. For more information: www.franciskurkdjian.com
Range
Eau de Parfum 2.3 oz.
Bottle
A sleek, square, bluish-gray bottle adorned with a golden cap.
07 march 2013

Un oud pas comme les autres, un oud cocon, voilà ce que pourrait être le Oud de F. Kurkdjian. Intéressant, car pas du tout brutal, chassant les facettes un peu âcres et animales du bois de oud derrière une tempête de cèdre, d'iris, de violette, de muscs blancs et de notes vanillées, il dévoile une douceur à laquelle on ne s'attend pas quand on nous promet un 'oud'.

Report abuse

http://www.olfactorum.blogspot.com

Passionné de parfums depuis très longtemps, formé depuis 2003 aux matières premières chez Cinquième Sens, Thierry effectue ses gammes pendant...