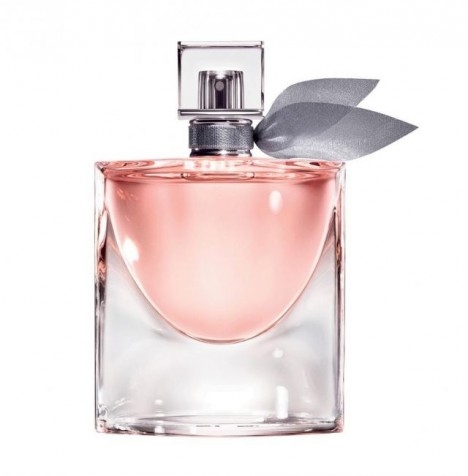 Description
La vie est belle, by Lancôme, opens with fruits paired with an 'iris-aldehyde' accord. Composed around iris, the heart also unveils waves of jasmine and orange blossom. The oriental and very gourmand trail is a blend of vanilla, tonka bean, praline and patchouli. According to the brand, the perfume's formula contains 'only 63 ingredients.' Perfumers: Olivier Polge, Dominique Ropion and Anne Flipo, IFF.
At a glance
Eau de Parfum 1, 1.7 and 2.5 oz.; Perfume Lotion 6.8 oz.; Shower Perfume 6.8 oz.
History
With La vie est belle ("Life is beautiful" or "Life is good"), Lancôme has come up with an ode to happiness in which the woman is the heroine. She has no obligations, no imposed path to follow; she's looking for her own idea of happiness, and she lives it her own way. For Lancôme, La vie est belle is 'the perfume of happiness, smiles and freedom… the perfume that makes life better and more beautiful!' The house has chosen Julia Roberts as the face of the perfume's launch.
Range
Eau de Parfum 30, 50 et 75 ml ; Lait de Parfum 200 ml ; Douche de Parfum 200 ml.
Bottle
The unusual bottle – with both shapely curves and a rectangular aspect – reveals a pink juice, and is embellished with a 'pearl-gray organza ribbon' tied at the neck.
La Vie est Belle de Lancôme - Bottle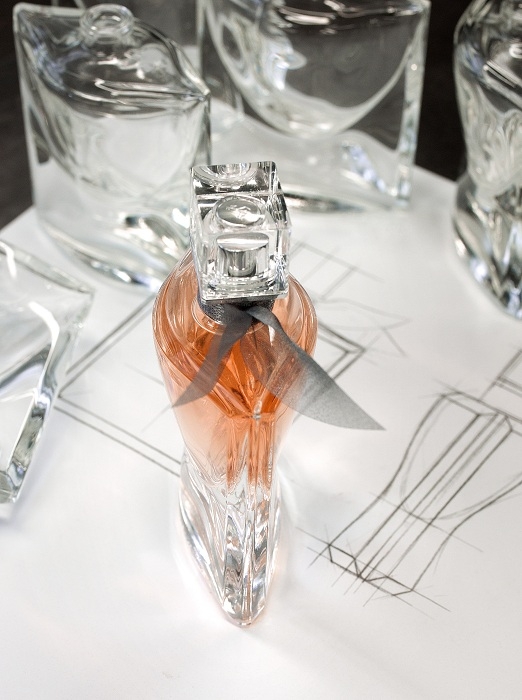 Advertising of the fragrance La vie est Belle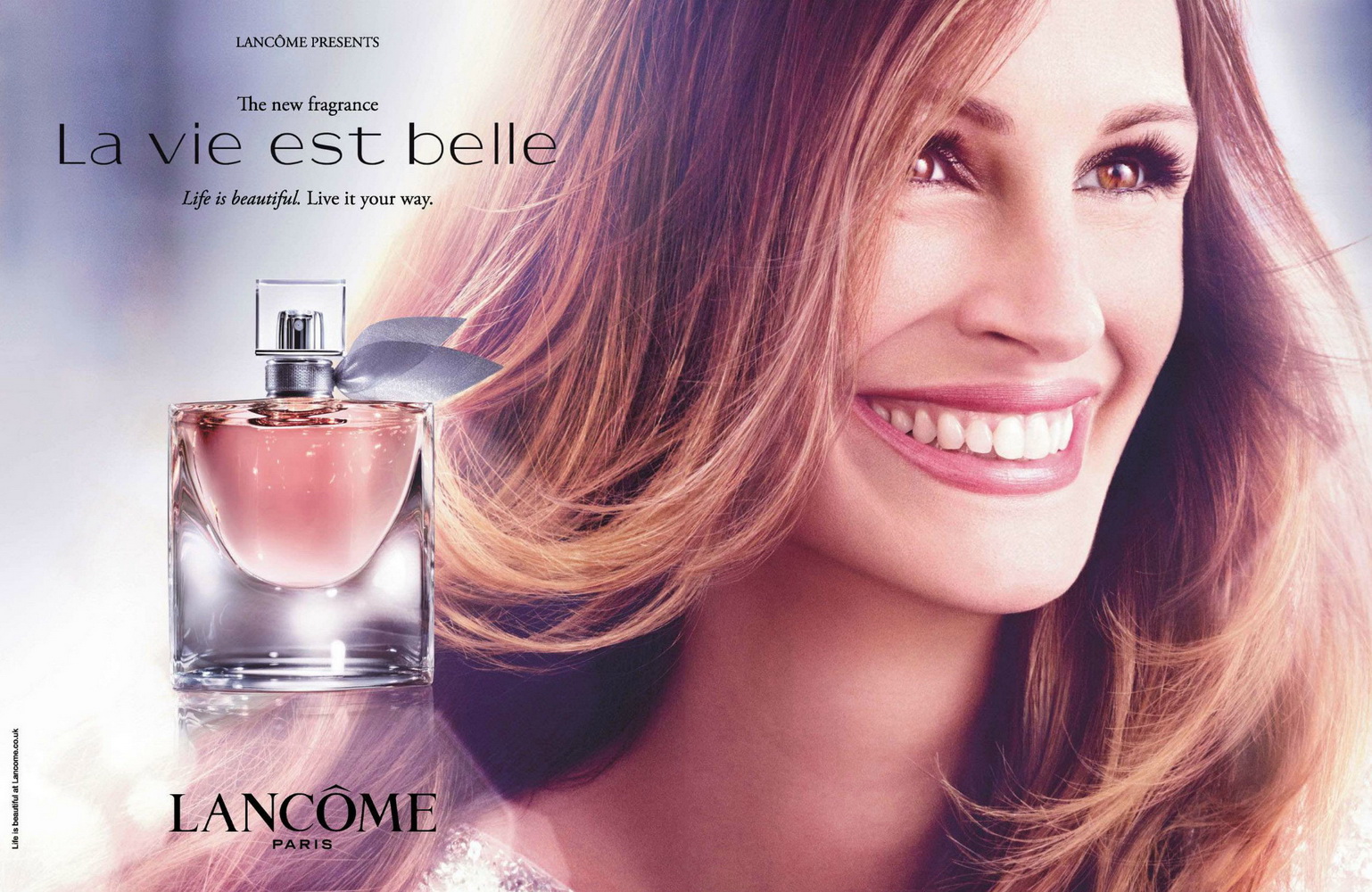 Advertisement proposed in partnership with imagesdeparfums.fr
With the kind permission of the brand
30 august 2013

Le flacon de La vie est belle est inspiré d'un ancien flacon créé par Lancôme il y a plus de 60 ans. Lancôme propose ici un produit avec un lourd poids de verre. Actuellement en matière de flacons, il y a un repli sur la marque, qui est remise en avant avec des produits très verriers. On retrouve cette tendance chez d'autres marques de parfums, comme Hermès par exemple, avec le flacon de Jour d'Hermès.

Report abuse

http://www.agenceaio.com/

Marc Touati est créateur de flacons de parfums. Issu d'une famille d'ébéniste et de tapissier-décorateur, il a dès sa jeunesse une...

26 december 2012

Pour moi, La vie est belle est un mélange de plein de choses qui ont déjà marché, mais sans vrai caractère. La marque annonce de l'iris, mais on ne le sent pas. Pour moi le parfum est trop gourmand : on dirait un fil de sucre. Et puis, travailler à 3 parfumeurs, faire 5000 essais (enfin, c'est ce qui est annoncé) : franchement, le résultat est très décevant. Mais je trouve que le plus raté, ça reste la vidéo publicitaire. On nous montre une femme qui se libère de ses chaînes en Swarovski (parce qu'elle ose !), pour monter les marches d'un escalier qui ne mène nulle part. Avec les moyens qu'à la marque, avec Julia Roberts qui est une jolie femme, c'est vraiment dommage. Sans doute qu'on a ici un parfum qui a été trop testé, restesté avant d'être lancé… pour essayer de plaire à tout le monde.

Report abuse

http://www.olfactivestudio.com

Céline Verleure est la créatrice d'Olfactive Studio. Avant cela Céline a travaillé pour les parfums Kenzo, pour L'Oréal, mais elle a...

27 october 2012

Le parfum est très consensuel, ce qui est assez amusant vu que le slogan parle d'une femme qui s'affranchit des préjugés, une femme libre etc.... alors que je le jus est tout l'inverse: calibré pour plaire au plus grand nombre. Dégoulinant de sucre, bourré déthyl maltol (note praline-caramel), il ressemble bcp à flowerbomb du même groupe L'oreal, (comme c'est bizarre) et surfe sur la vague des angel et coco mad... Bref un des jus les plus commerciaux jamais réalises. Et l'iris, il faut vraiment le chercher sous la dose infinie de sucre poisseux. C'est dommage. Aucune prise de risque. Et, en plus, le discours est mensonger: premier iris gourmand, vraiment? (et dior homme alors, par ex? c'est quoi? et shalimar initial? pour ne citer qu'eux. )

Report abuse

http://mybluehour.blogspot.com/

Passionnée de parfum depuis l'adolescence, j'ai pourtant entrepris des études de droit puis de journalisme. C'est lorsque j'étais...