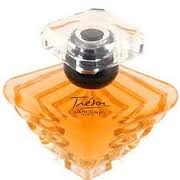 Description
The top note is fruity with peach skin and apricot tones, followed by a rose middle note. Powdery iris, heliotrope and violet warm the sandalwood and musk end note in a distinctive lingering scent.
History
This perfume was originally launched by Isabella Rossellini who communicated her timeless and eternal femininity, sharing with us the emotion of a true love story. Today, Inès Sastre embodies the emotions of "precious moments" through laughter and tears. Lancôme wanted to give a new and more intimate orientation to its women's line of perfumes with a fragrance that would be instantly familiar and recognizable, an elixir of happiness.Sophia Grosjman, the perfume creator, is a master at showcasing the rose. She created this perfume for herself, "to encourage hugging".It appealed to Lancôme right away as the rose is the brand's emblem.Trésor is the twelfth perfume from the brand in 28 years. Before launching, the project was redesigned seven times. Its huge worldwide success, due to its image as a perfume for the self and not for others or for show, marked a turning point in perfumery in the 90s.
Bottle
The bottle was created by Areka, an in-house studio at L'Oréal. Areka was asked to design a "bottle for happiness", an object which would be pleasant to the touch. Its rosy color recalls a flaming sunset. "Trésor" was the name of an old Lancôme perfume.
26 december 2012

Trésor est un grand classique de la maison Lancôme. Et ce ne sont pas les égéries qui manquent pour ce parfum poudré et fruité. Après Isabella Rossellini, puis Kate Winslet, c'est au tour de Penelope Cruz de devenir la Femme Trésor, toujours glamour, avec cette fois-ci une touche de sensualité plus latine. Pour Trésor Midnight Rose, destiné à une femme plus jeune, la marque a choisi l'actrice américaine Emma Watson. Du côté de Trésor in Love, Lancôme a choisi Elettra Wiedemann, la fille d'Isabella Rossellini. Que de stars pour une ligne parfumée !

Report abuse