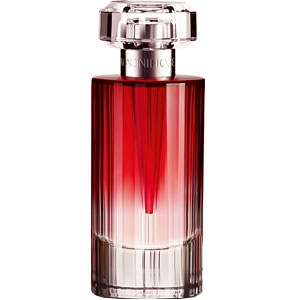 Description
A woodsy-floral scent with a spicy saffron opening. The heart blends an armful of lightly honeyed roses with a lush note of jasmine. The woodsy trail blends vetiver and sandalwood with essence of Nagarmotha, an Indian variety of papyrus with a sweetly smoky trail. Designed by: Jacques Cavallier and Olivier Cresp, Firmenich
At a glance
A passionately red, passionately Lancôme perfume
History
Some colors just are passionate, and red is one of them. Like a fiery declaration of the most exalted femininity, Lancôme wanted to create an exceptional fragrance, Magnifique. An elegant, ruby-red bottle, a woodsy-spicy-floral scent stitched form the finest ingredients. And a beautiful face, too: American actress Anne Hathaway.
Range
Eau de Parfum 1, 1.7 and 2.5 oz. Shower Gel; Body Lotion; Deodorant Eau.
Bottle
A sophisticatedly streamlined bottle, in a ruby-red hue.
12 february 2009

je ne suis pas fan de ce parfum, la première fois que je 'lai senti, son aspect synthétique ma littéralement donné mal au crâne et au coeur. Certes, après l'avoir ressenti sur une amie;, il peut être agréable, mais ça ne vas pas plus loin, pas d'originalité, ni de personnalité, un peu fade quoi. Dommage. Dans la même veine , je préfère Trésor, qui a sa propre personnalité. On aime ou on aime pas, car très fleuri, certains adoreront quand d'autres le trouveront écoeurant, mais c'est un parfum qui se remarque, qui a de la personnalité, là où magnifique passe inaperçu dans toute la masse de parfums dévoués aux diktats du marketing existant.

Report abuse

http://mybluehour.blogspot.com/

Passionnée de parfum depuis l'adolescence, j'ai pourtant entrepris des études de droit puis de journalisme. C'est lorsque j'étais...