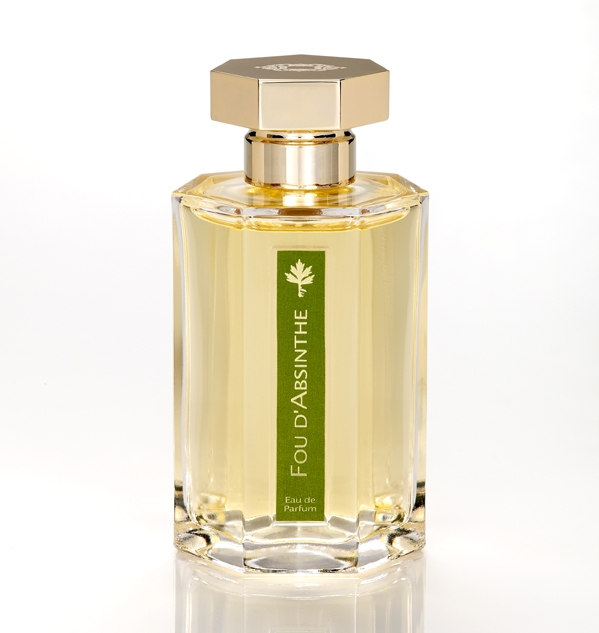 Description
Absinthe, slightly bitter and green, blends in the opening with angelica and a frosted-spirits note. In the heart, the aromatic sensation is sustained by star anise and 'Chinese Four Spice Essence'. Pine needles and fir resin deliver an almost mosse, dry-woody sweetness to the closing, along with rockrose and the woody note of patchouli. A bold, free-thinking expression of the brand's creativity.
At a glance
"An olfactory folly drenched in absolute freedom"
History
Absinthe… poets called it the 'elixir of inspiration'. The plant 'whose very name brings a shiver' has been brought into the spotlight by L'Artisan Parfumeur in an innovative and aristocratic new scent for men, Fou d'Absinthe (Crazy for Absinthe). In association with frosted spirits, angelica, a whisper of black currant and sweetly complex woody notes, Fou d'Absinthe also unveils a new bottle, which will henceforth be used for all of the brand's creations.
Range
Eau de Parfum 1.7 and 3.4 fl. oz.
Bottle
L'Artisan Parfumeur presents its new bottle, with seven facets and a pale-gold zamac cap. Like the previous bottle, it was designed by Federico Restrepo.
28 june 2013

Ce parfum inspiré par l'absinthe dévoile une note aromatique, légèrement anisée et verte. Le côté froid provient de l'accord aromatique. Ce bouquet aromatique contient de l'absinthe en petite quantité, mais aussi de l'armoise, qui marque beaucoup la tête, et qui apporte un côté amer. On a aussi une note angélique, et des facettes vertes pour soutenir l'ensemble. On retrouve aussi des éléments traditionnels de l'accord fougère. C'est sans doute un des parfums les plus masculins de L'Artisan Parfumeur. Même si c'est tout à fait portable par une femme.

Report abuse