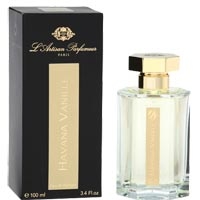 Havana Vanille / Vanille Absolument
Description
Vanilla garbed with rum, as well as dry fruit, spice, amber and smoky-wood tones.
At a glance
A Cuban-style vanilla: steeped in rum and tobacco
History
Artisan Parfumeur presents a warm and enveloping unisex scent that's like a voyage to Latin America. Mexican vanilla meets the charms of Havana: honey-scented tobacco leaves, and memories of 'long sea crossings in boats where the scent of the wooden hull blends with those of barrels of rum and boxes of spices'.
Range
Eau de Parfum 1.7 and 3.4 oz.
Bottle
The house's signature bottle is adorned with a beige label.
27 october 2012

Une belle vanille très gousse! Certes les notes de tête peuvent être déconcertantes, car très sucrées avec cet effet rhum arrangé à la vanille! Mais cette sensation ne dure pas, il faut le laisser évoluer vers une vanille plus boisée, un peu tabac, beaucoup plus en finesse. Un des parfums probablement les plus dosés en absolu de vanille. Dommage que L'artisan Parfumeur souhaite l'arrêter... Il n'a pas dû rencontrer son public et la qualité des matières premières font qu'il doit coûter cher à produire ... A essayer l'été en soirée, par temps humide voire orageux, un temps un peu "tropical", il révèle toute sa subtilité!

Report abuse

http://mybluehour.blogspot.com/

Passionnée de parfum depuis l'adolescence, j'ai pourtant entrepris des études de droit puis de journalisme. C'est lorsque j'étais...