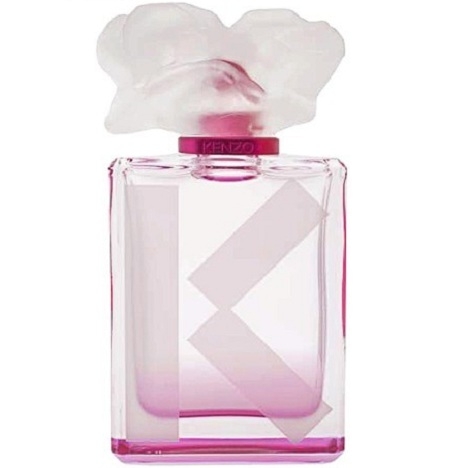 Couleur Kenzo Rose / Pink
Description
Couleur Kenzo Rose / Pink opens with a citrusy note of grapefruit. The heart unveils the juice's central note: rose – jazzed up with saffron. The trail is woodsier and muskier thanks to angelica. Perfumers: Jean Jacques and Sylvie Fischer, Takasago.
At a glance
Bright color, bright mood…
History
Colorful and cheerful, Rose / Pink is a perfume from the Kenzo Couleur collection. It is being launched at the same time as Jaune / Yellow. In this collection, Kenzo associates colors, moods and odors. Rose / Pink is a playful perfume composed around rose.
Range
Eau de Parfum 1.7 oz.
Bottle
The transparent, rectangular bottle has been marked with a K. The cap echoes the flower dreamt up by Serge Mansau for Kenzo's very first fragrance.
15 june 2013

Cette fragrance rose s'articule essentiellement autour de la rose, très fuitée et musquée ici. On perçoit des notes fraîches, aqueuses et fruitées, qui rappellent le litchi, la poire et le pamplemousse. Lorsque j'ai traité la couleur rose pour le parfum Pink de la marque Undergreen, j'ai imaginé, uniquement à partir d'ingrédients naturels, une rose hespéridée et pétillante en départ, qui s'ouvre sur des notes fruitées fraise et des notes gourmandes et vanillées, pour illustrer olfactivement la couleur rose bonbon du flacon.

Report abuse

http://www.cecilezarokian.com

Cécile Zarokian est parfumeur-créateur indépendant. Elle élabore des fragrances dans son laboratoire de création parisien situé près du Canal...