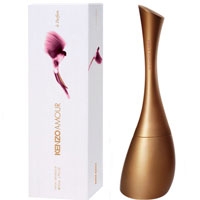 Description
A woodsy-oriental fragrance elegantly weaving together the opulence of Siamese benzoin, the woodsy tones of patchouli and the oriental character of amber and frankincense. You'll also recognize 'the familiar notes of Kenzo Amour: rice, frangipani blossom and vanilla.' Perfumer: Daphne Bugey, Firmenich.
At a glance
A gilded journey through Asia
History
After the sweet, poetical sensuality of Kenzo Amour, Kenzo presents Kenzo Amour Le Parfum, a romantic journey filled with the golden light of Asia, the one that carves the gentle shadows inside temples and pagodas in Burma, Thailand, Cambodia and more. Gold, which can be found on both the bottle and the packaging, was the inspiration for this fragrance, which proposes a lusher, more oriental interpretation of the original eau de parfum.
Range
Perfume spray 1 and 1.7 oz.
Bottle
Kenzo Amour's poetical curves, garbed in a matte-gold hue.
27 november 2012

Exótico, resinoso, amadeirado, hipnótico. É o Amour levado ao extremo, entretanto diferente dele, mais yang, mais oriental, mais noir.

Report abuse

http://perfumenapele.com

Quando criança, brincava com frascos vazios de Phebo imaginando ser perfumista. Apaixonou-se de verdade por perfumes quando ganhou de uma vizinha...