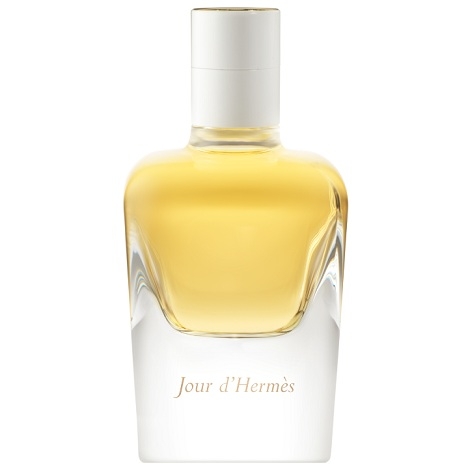 Description
Hermès has chosen not to give precise details about the ingredients in this perfume, other than to say, 'hundreds of flowers' and 'balms.' Still, the packaging does mention the presence of oak moss (evernia prunastri) in the formula. At a sniff, we'd say there are green and citrusy notes, as well as more floral ones, and a gardenia keynote. Perfumer: Jean-Claude Ellena.
At a glance
Radiance, femininity and optimism
History
With Jour d'Hermès, the house wants to focus on women and light. And in perfumery, femininity means flowers. So be it, Jean-Claude Ellena replies, but in that case, let's use hundreds of them! Hermès's in-house perfumer explains, 'I wanted to offer armfuls of flowers, so that everyone will find the one they're looking for and smell what they want to smell.'
Range
Eau de Parfum: refillable 1-, 1.7- and 2.9-oz. Eau de Parfum refill: 4.2-oz.
Bottle
The rectangular bottle with the rounded edges reveals a golden juice, and is topped with a white cap.
04 september 2013

Com a inconfundível assinatura de Jean Claude Elena, esse perfume é muito feminino, chic, sem ser enjoativo. Tem uma fragrância única, transmite uma aura de frescor, suavidade, mas é profundo e encanta. Adorei!

Report abuse

30 august 2013

Pour Jour d'Hermès, on a un flacon avec un très lourd poids de verre. Et ce, à tel point que la marque n'a pas fait de flacon 100 ml, parce qu'il aurait été énorme. Il y a une référence aux produits traditionnels de la verrerie, à un retour vers des valeurs artisanales. Le résultat n'est pas forcément vintage, mais on affirme ce côté matière.

Report abuse

http://www.agenceaio.com/

Marc Touati est créateur de flacons de parfums. Issu d'une famille d'ébéniste et de tapissier-décorateur, il a dès sa jeunesse une...

07 march 2013

Jour d'Hermès est la réponse d'Hermès pour être au goût du jour. Constatant sans doute une impossibilité de passer à côté de la tendance des floraux fruités, Hermès en propose une vision relativement bien balancée, qui ne sombre ni dans le sucre ni dans le trop artificiel, qui se tient... Mais hélas, la vibration, l'émotion manquent cruellement.

Report abuse

http://www.olfactorum.blogspot.com

Passionné de parfums depuis très longtemps, formé depuis 2003 aux matières premières chez Cinquième Sens, Thierry effectue ses gammes pendant...