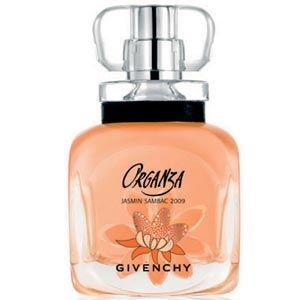 ORGANZA Jasmin Sambac d'Inde 2009
Description
In the opening, jasmine's green facet echoes honeysuckle, boosting its femininity. The original floral bouquet is more sensual and lush here, offering honeyed and almondy tonalities thanks to Indian sambac jasmine harvested in 2009. The warm and sensual trail pairs vanilla with woodsy and oriental notes.
At a glance
When the 2009 Indian sambac jasmine harvest magnifies Organza
History
Delicate, warm, honeyed: Jasmine Sambac d'Inde 2009 reinterprets Organza's original scent. For the fifth year in a row, Givenchy presents a limited edition of their most emblematic perfumes recomposed around a flower that had an exceptional harvest the preceding year. This year, Organza features Sambac jasmine from Coimbatore, India. Seen as sacred in the Hindu tradition, the flower plays a key symbolic role in wedding ceremonies, where it incarnates the woman's beauty and purity of heart. Also worth looking out for: Egyptian Nile Valley orange blossom for Ange ou Démon, Moroccan Centifolia rose for Very Irrésistible, and French mimosa for Amarige.
Range
3 oz. limited edition eau de parfum.
Bottle
For the 2009-harvest edition, the rounded-edged cube comes in a white package with a floral pattern. The pattern is echoed on the bottle, too.
Be the first to comment this fragrance! Register or login to comment.
Be the first to comment this fragrance! Register or login to comment.