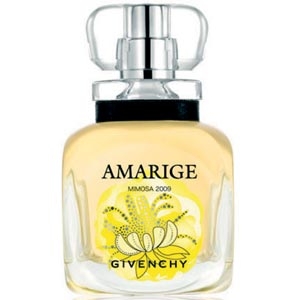 Amarige Mimosa de Grasse 2009
Description
At the top, mimosa's green and vaporous accords intertwine with mandarin orange to grant the fragrance freshness. The heart, more floral and powdery than the original scent, develops luminous, golden accents. The trail of precious woods gives the perfume a soft femininity.
At a glance
When the 2009 Grasse mimosa harvest magnifies Amarige
History
Green, vaporous, golden, Mimosa de Grasse 2009 reinterprets Amarige's original scent. For the fifth year in a row, Givenchy presents a limited edition of their most emblematic perfumes, recomposed around a flower that had an exceptional harvest the preceding year. This year, Amarige features Grasse mimosa from France's Var region. The mimosa is harvested in February. The one in Givenchy's 2009 harvest comes from Marjories Valley, on a road nicknamed 'the golden road', because it is lined with bushes of a unique variety, Dealbata mimosa, which grows wild there. Also worth looking out for: sambac jasmine from Coimbatore India for Organza, Egyptian Nile Valley orange blossom for Ange ou Démon, and Moroccan Centifolia rose for Very Irrésistible.
Range
3 oz. limited edition eau de parfum.
Bottle
For the 2009-harvest edition, the rounded-edged cube comes in a white package with a floral pattern. The pattern is echoed on the bottle, too.
Be the first to comment this fragrance! Register or login to comment.